Wine
A New Baron in Bordeaux
The boss at Mouton Rothschild sounds off on the challenges of staying haute.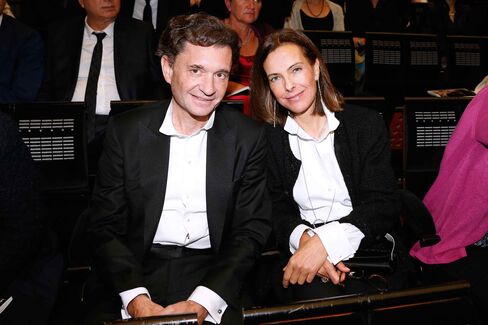 Philippe Sereys de Rothschild likes to call himself a financier in a family of artists. In October, after the death of his mother, Baroness Philippine de Rothschild, he became chairman of the supervisory board of Baron Philippe de Rothschild SA, which oversees first-growth Château Mouton Rothschild and other brands in France (including best-selling Mouton Cadet), Chile (Almaviva), and the U.S. (Opus One). His brother, Julien de Beaumarchais, and sister, Camille Sereys de Rothschild, are co-owners. When I interviewed him, Rothschild, 52, had just returned to Bordeaux from the Cannes Film Festival, where the Mouton Cadet Wine Bar is always a popular hangout and where he hit the red carpet with his frequent companion, actor Carole Bouquet. Rothschild brings more than family connections to his new role: Armed with an MBA from Harvard, he had a career in business and finance, including creating a private-equity technology fund.
Your grandfather got Mouton elevated to first-growth status [in 1973], and your mother was also a powerful personality. How did you work with her? It was a subtle balance when I started on the board in 2006.
She consulted me, but she was 100 percent the president. You can't divide power!
You've made a lot of investments recently. Can this pace continue?
We struggled the last 10 to 15 years to be the top; maybe it's more difficult to stay there. We've spent millions of euros on building and renovating at Mouton and Ch. Clerc Milon. On our other properties, like Almaviva, there's still a lot to do.
How is the wine business different from other businesses?
The key word is long-term. It's a mistake to think we're in the luxury product business; we're in the agriculture business. We can't rush things. When we rip out a 1-acre vineyard to replant, it's a minimum of five years before we can use the grapes. That's why we are going to stay a family business.
And Mouton Cadet?
It's Bordeaux's biggest brand—we sell 12 to 13 million bottles a year—but we're working on making it more premium. It has a relationship with the Cannes Film Festival and now the Ryder Cup.
What are your plans for Mouton's famous art labels?
My brother, Julien, is the artistic one, so he'll be more involved. And we have constraints. The artists convey the image of Mouton, so we only deal with those at the very top. But they can be a nightmare: They promise something in three months, but then you find out nothing has happened!
This story appears in the September issue of Bloomberg Markets.
Before it's here, it's on the Bloomberg Terminal.
LEARN MORE