Iran Deal Opposed by Head of Senate Foreign Relations Panel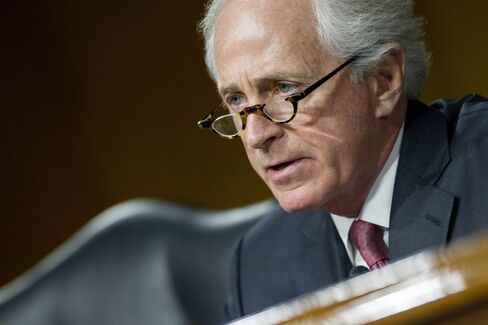 Bob Corker, the chairman of the Senate Foreign Relations Committee, said he opposes the nuclear agreement with Iran, arguing it won't end the country's nuclear enrichment program and may lead to greater instability in the Middle East.
The Tennessee Republican announced his decision in a Washington Post opinion piece published online Monday. Corker has been increasingly critical of the accord since the agreement was announced last month.
"The agreement should be one that allows us to maintain leverage and ensure it is enforceable, is verifiable and holds Iran accountable," Corker wrote. "This deal does not do that and instead leaves the United States vulnerable to a resurgent Iran wealthier and more able to work its will in the Middle East."
The agreement with Iran by the U.S. and five other world powers would curb the Islamic Republic's nuclear program in return for easing sanctions. Lawmakers have until the end of the day Sept. 17 to complete their review of the accord. President Barack Obama has been seeking congressional support for the deal.
Obama has compared Republicans' opposition to Iran hardliners who chant "Death to America" and said that the decision to support the accord amounts to a choice "between diplomacy or some form of war."
Obama Veto
If lawmakers pass a resolution of disapproval -- the likely outcome in the Republican-led House and Senate -- Obama has said he will veto it. The White House is counting on having enough Democrats in support of the Iran deal to sustain a veto, which would stand unless two-thirds of Congress votes to override it.
Democratic Senator Mazie Hirono of Hawaii said she will support the deal.
"While this agreement is not perfect, it has gained broad national and international support, including 29 top American nuclear scientists, of which six are Nobel laureates," Hirono said in a statement dated Monday. This agreement is the best option to halt Iran's nuclear weapon program.''
So far in the Senate only one Democrat, Charles Schumer of New York, has said he'll vote against the deal. With Hirono on board, 19 other Senate Democrats and two independents who caucus with the party have said they support it.
Senator Bob Menendez of New Jersey, previously the top Democrat on the Senate Foreign Relations panel before he stepped down after being indicted on federal corruption charges, plans to announce his decision Tuesday. Menendez, the most vocal Democratic critic of Obama's foreign policy, has criticized elements of the Iran accord.
No Republicans in either chamber have come out in favor of the accord.
Before it's here, it's on the Bloomberg Terminal.
LEARN MORE