Here's What Economists Think About Europe and the ECB Right Now
The economic outlook isn't great, even though economists think the ECB will come through on its QE pledges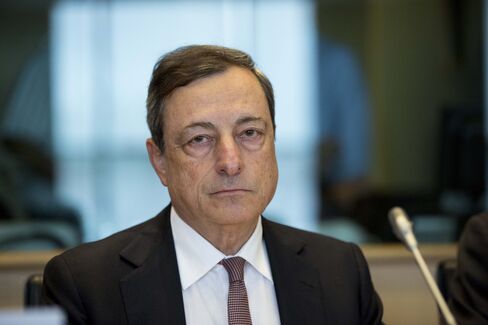 Economic news out of the euro area has been mixed of late, with Greece posting surprisingly strong growth in the second quarter followed by disappointing GDP releases from the three largest euro area countries.
Against that complicated backdrop, here's what 40 economists told us about the state of the world's largest monetary union and its central bank. The Bloomberg survey was conducted Aug. 7-14.
1. The economic outlook is flatlining
Less than 30 percent of these economists have an optimistic short-term outlook for the euro area, the lowest level since the European Central Bank announced its historic asset-purchase program earlier this year. Many had hoped the program would propel the currency union toward a healthier recovery.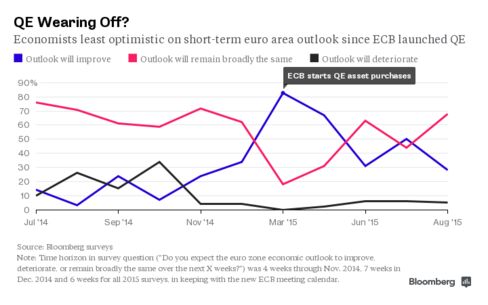 2. We're not out of the deflationary woods yet
Following three months of dreaded consumer price declines at the start of the year, ECB President Mario Draghi said "we can deploy and we will deploy monetary policy in a way that can and will stabilize inflation." Since quantitative easing kicked off, prices have indeed -- ever so slightly -- crept up. There remains a one-in-three chance of another month of negative inflation this year, according to the median of 34 estimates in the Bloomberg survey.

3. And QE remains on track
In the meantime, 85 percent of economists in the survey say that the ECB will fully deliver on its goal of buying 60 billion euros ($67 billion) per month through September 2016. So their optimism is fading even though they know that the central bank is going to continue supporting the economy.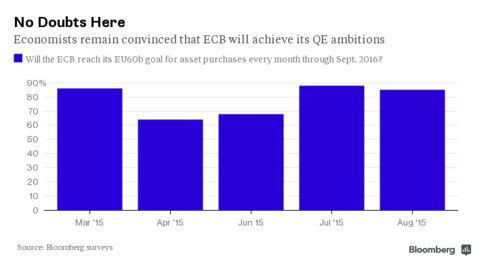 When realized, all those asset purchases are going expand the ECB's balance sheet to 3.3 trillion euros, according to the median of economists's estimates.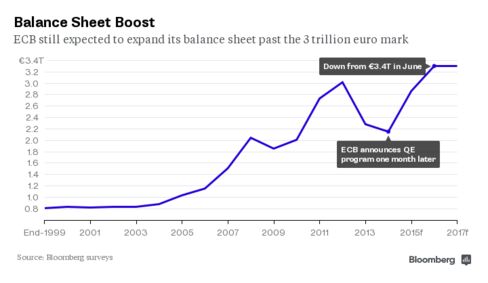 And the balance sheet expansion will probably last longer than originally outlined by Draghi. A growing share of economists now expect the ECB to wait until at least Oct. 2016 before the bank begins decreasing its monthly asset purchase goal.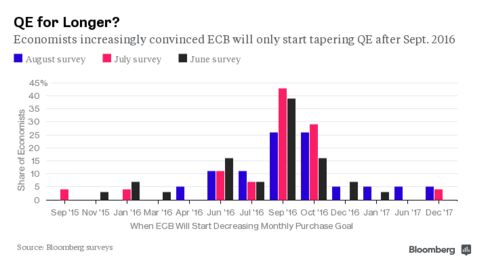 Before it's here, it's on the Bloomberg Terminal.
LEARN MORE