Hamptons Scene: Christie, De Blasio Mingle as Cohen Peeks at Art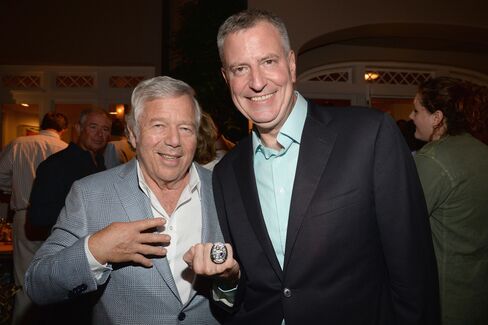 Paul Tudor Jones made a beeline for Mayor Bill de Blasio, then patiently waited a few minutes behind another guest on Ronald O. Perelman's patio in East Hampton.
"We want to partner with him on housing," said the hedge-fund manager who started the Robin Hood Foundation to aid New York City's poor. As the Saturday night party raised money for Harlem's Apollo Theater, Jones already was working on another cause: "We're bringing the real estate industry to the table," he said.
Never mind the irony of massaging New York's populist mayor on low-income housing at an estate where a Cy Twombly doodle hangs next to a Warhol in the dining room, and a notepad bearing the name of the property, The Creeks, rests next to every telephone.
And never mind that the Apollo's biggest fundraiser takes place where the quickest access is via private plane, not the A train. The philanthropic engine behind the theater is "the happening of the summer," as Apollo Chairman Dick Parsons put it.
The event raised more than $4 million for Apollo education programs. Perelman said he'd like some of it used to train more black children in classical music, having seen a lack of diversity in a youth orchestra at Carnegie Hall.
Back on the patio, Stanley Druckenmiller had a quiet moment looking out on Georgica Pond, Michael Novogratz sported a sharp hat, and Jones said his summer had been good: "I'm working too hard, but I love it otherwise."
Billionairless
That was a common refrain at the gathering of busy people in finance, media, entertainment and politics. It was a night where face-to-face conversations and dancing to Pitbull, live, could just be fun or mean something more down the line.
So take with a grain of salt or a whiff of campaign-finance intrigue that New Jersey Governor Chris Christie talked to Steve Schwarzman during the cocktail hour, then sat down without a billionaire. (Steven A. Cohen and Alexandra Cohen, who each donated $1 million this year to an independent super-PAC supporting Christie, were on the opposite side of the room, having hosted a luncheon for Christie earlier in the day.)
Schwarzman, who has supported a Jeb Bush super-PAC, laughed when asked about running. "I'd be the only non-insane businessman candidate," he said. "Maybe in another life."
De Blasio looked comfortable trying on Robert Kraft's Super Bowl ring (which he gave back), greeting Questlove of the Roots, and sitting with Perelman at the table that ran down the center of the barn-slash-music hall, the best to be seen at.
Fallon Duet
Christie's company for the dinner of fried chicken and salmon included his home-state pal Jon Bon Jovi, who recently hosted a fundraiser for Hillary Clinton.
Last year, after dinner, Christie went on stage and danced with Jamie Foxx; this year, he left his table and went over to Foxx's to say hello, and didn't move much, unless you count his eyes darting around the room to take it all in.
Foxx did call someone up to the stage: Jimmy Fallon, who's joked about starting his own presidential campaign. Foxx handed him the microphone to croon "Give It to Me Baby." Was it just a sexy throwback moment or a reference to the fact we're in the heat of presidential campaign fundraising?
Perelman must love the horse race. He hasn't given money to Christie's super-PAC, but he has given to those supporting former Florida Governor Bush and Senator Lindsey Graham of South Carolina. The latter was supposed to attend but didn't make it, Perelman said.
Cohen, whose dinner company included Barry Rosenstein, missed the Fallon-Foxx duet and Pitbull. He headed out early, and while his wife waited for the car at the valet, took a quick stroll through Perelman's house to look at the art. "Got to check it out," said the collector.
Before it's here, it's on the Bloomberg Terminal.
LEARN MORE