Fuss Won't Join U.S. Dollar Bulls Faring Worst Since 2008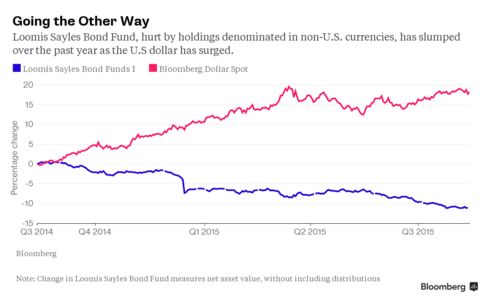 Dan Fuss has been on the wrong side of the rising U.S. dollar this year. Even at a big cost to his fund, the experience hasn't turned him into a dollar bull.
The dollar's climb against the currencies of Canada, New Zealand, Australia and others has Fuss's Loomis Sayles Bond Fund on track for its worst year since 2008. The $21.2 billion fund, which he runs with two co-managers, declined 3.8 percent in 2015 through Aug. 13, trailing 98 percent of its peers, according to data compiled by Bloomberg.
Fuss, 81, has a strong long-term record and history of investing in foreign currencies, especially from countries with stable political systems and modest debt loads. He still likes the currencies that have hurt him lately, in part because he doesn't believe the dollar rally can last.
"When something goes up and up, unless there is a completely new paradigm eventually it stops," Fuss said last week in a telephone interview from his Boston office.
His position on the dollar puts him at odds with bond managers such as Jeffrey Gundlach, co-founder of DoubleLine Capital LP, and Scott Mather at Pacific Investment Management Co. Their main mutual funds are beating 86 percent and 93 percent of their competition, respectively, in 2015.
"I still believe strongly in the dollar being in a secular bull market," Gundlach said in May. Mather, one of the managers of the $101 billion Pimco Total Return Fund, said in an Aug. 7 interview with Bloomberg that the dollar may strengthen against major currencies for another few years.
'Contrarian Approach'
"Dan invests against the grain," Jeff Tjornehoj, an analyst with Denver-based Lipper, said in an interview. "At times that contrarian approach is just what is needed. Other times, it can take awhile to pan out."
Fuss has been in the investment industry since 1958 and has run Loomis Sayles Bond Fund since it was created in 1991. His approach, looking for bargains much like a value-oriented stock picker, led him to beaten-down bank debt in 2008 and Irish government debt in 2010, investments that paid off as the global economy recovered.
The fund beat 96 percent of rivals over five years, Bloomberg's data show. Over 20 years its annualized return of 8.6 percent has almost matched the Standard & Poor's 500 Index. This year's slump has prompted investors to pull money for five months in a row.
Assets denominated in non-U.S currencies, which accounted for 28 percent of the fund as of July 31, have boosted returns over time, Fuss said in the interview.
Canada, Mexico
The Canadian dollar, the fund's largest non-U.S. currency exposure, is down 11 percent against the U.S. dollar this year as of Aug. 14. The New Zealand dollar, the Australian dollar and the Mexican peso have fallen as much as 16 percent.
The currencies have been dragged down by the prospect of higher U.S. interest rates and the decline in commodity prices, triggered by the slowdown in China. The fall in oil, from more than $100 a barrel last June to about $42, has been tough on Canada's currency, Fuss said.
Fuss's currency views focus less on traditional factors such as trade balance data and more on broader economic and political analysis. He likes countries where politicians work relatively cooperatively together, a label he applies to Canada, New Zealand, Australia and Norway.
He also favors currencies from countries with net immigration and fiscal discipline. New Zealand, Australia and Norway have debt-to-GDP ratios that are about half the U.S. level, according to data compiled by Bloomberg. Canada is expected to have a balanced budget through 2016.
'Jet Fighter'
Fuss, who has held assets in the Canadian dollar since the fund was created, takes a long-term perspective. His take on the U.S. dollar's climb against a range of currencies is based on historical patterns.
"If you look at a chart of the dollar's rise, it doesn't quite look like a rocket ship, more like a high-powered jet fighter," said Fuss, a former Navy officer.
The Bloomberg Dollar Spot Index, which tracks the U.S. dollar against a basket of 10 currencies, rose 18 percent in the past year.
Whenever the dollar has rallied so sharply in the past, it eventually came back to Earth, Fuss said. He expects that to happen again, though he can't say when.
"Is the dollar putting in a top against other developed-market currencies here?" he said. "Oh boy, I wish I knew. With markets you never have any idea."
Before it's here, it's on the Bloomberg Terminal.
LEARN MORE