International investors who have paid millions of dollars in down payments on new luxury homes in London's biggest residential development are being squeezed between a more expensive pound and slumping real estate values.
Malaysians who bought units under construction in the Battersea Power Station site from May 2013 have seen costs surge as much as 35 percent as the pound strengthened against the ringgit. Kuala Lumpur-based developer Sime Darby Bhd. said management and their families bought $12.8 million of the homes costing from 338,000 pounds ($526,000) to 6 million pounds. The first phase is set for completion next year.
The value of luxury homes in the Battersea and Battersea Park district fell 10 percent in the 12 months through June, according to broker Douglas & Gordon Ltd. Investor confidence has been undermined by higher sales taxes introduced by Chancellor of the Exchequer George Osborne in December, which climb to as much as 12 percent of the cost of the most expensive homes.
"A lot of these purchases are linked to political risks in Asia and concerns about an economic slowdown in emerging markets," said Joe Valente, head of research and strategy at JPMorgan Asset Management in London. "A sharp appreciation of the pound could certainly have an impact."
When the Battersea project was first marketed in 2013 a weak pound spurred demand from international investors and the number of new London apartments and houses due to commence construction surged to the highest in at least 26 years.
Interest Waning
Interest is now waning, with the number of Asian investors buying properties in London's best locations falling in the first half of the year, according to data compiled by broker Knight Frank LLP.
"We are witnessing softening of interest among buyers from Malaysia and southeast Asian regions, probably due to the prevailing volatile currencies and uncertainty in economic outlook," Sime Darby, which owns 40 percent of the Battersea project, said in a statement. "No exchanged contracts have been canceled to date."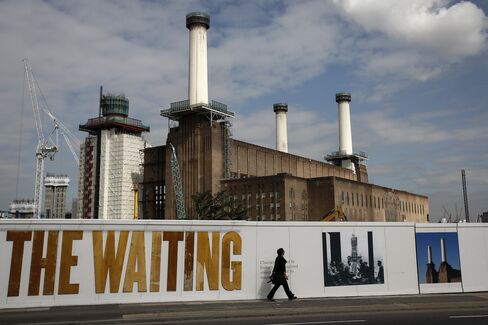 Malaysian buyers accounted for 0.6 percent of prime London homes sold in the first six months, compared with 0.9 percent in the previous period, while Hong Kong-based purchasers dropped to 3.3 percent from 5.6 percent and Singapore investors fell to 1.4 percent from 3.8 percent, Knight Frank said. Chinese homebuyers fell to 9.4 percent from 10.9 percent.
The pound has gained more than 14 percent against the Singapore dollar since May 2013, and 4 percent against China's yuan.
Ruble Slump
The worst hit investors are the Russians, with the ruble depreciating 55 percent against the pound in the period after sanctions were triggered by President Vladimir Putin's annexation of Crimea last year. Purchases by Russians slumped to 2.9 percent in the first half of the year compared with 6.7 percent in the previous six months.
"Given the movement in the pound over the past two years, our model would predict a fall in the price of prime central London to the rest of the U.K. of 10 percent to 15 percent." said Philip Lachowycz, an economist at Fathom Consulting in London. "In our judgment, most of that is yet to come."
While values have started to fall in the Battersea area, investors are being cushioned by increases from 2013 and 2014. Prices in the South Bank district, which stretches from Battersea Power Station to Tower Bridge, climbed 22.8 percent since January 2013, according to Knight Frank.
The decline in international buyers is hurting presales of homes in the U.K. capital. The number of London apartments and houses sold before they're completed fell 27 percent to 5,109 in the second quarter from a year earlier, according to broker Chestertons, citing data compiled by Molior London Ltd.
'Risky Buy'
"The London property market is an extremely risky buy at the moment regardless of exchange risk and especially at the top end," said Paul Cheshire, professor of economic geography at the London School of Economics.
Developers are competing to sell 18,000 new homes planned for the Nine Elms neighborhood, which includes 4,000 at Battersea Power Station. They're also having to contend with buyers seeking to flip the apartment purchase contracts before they have to complete the deal and pay sales taxes.
"The developers are losing their pricing power to those speculators looking to flip their deposits," said Mike Prew, an analyst at Jefferies Group LLC.
Before it's here, it's on the Bloomberg Terminal.
LEARN MORE