Bill Gross Warning Doesn't Deter Pimco's Bet on Canada Inflation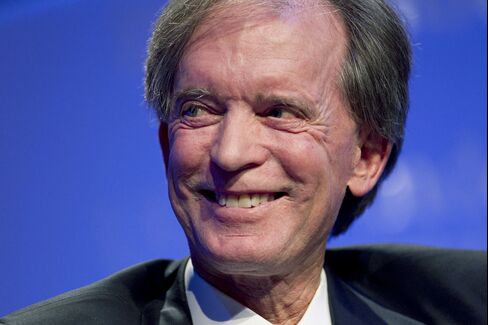 For Ed Devlin, mounting fear that China's currency devaluation could send consumer prices worldwide into a destructive downward spiral -- voiced by such luminaries as his former boss Bill Gross -- is a buying opportunity.
Devlin, who manages the Canadian investments for Pacific Investment Management Co., or Pimco, has a longstanding bet consumer-price increases in the country will rise, not fall, making bonds with built-in inflation protection more valuable.
China's currency fell the most in 21 years last week after the People's Bank of China said it will allow markets a greater role setting the renminbi's value. With a renewed collapse in oil prices already weighing on the market's inflation outlook, China's action sent the cost of that protection in Canada to the lowest since the 2009 global recession.
Devlin is unmoved, saying the concern is overdone and investors will eventually clamor for that protection.
"The Bank of Canada has had a multiple-decade history of hitting its 2 percent inflation target," Devlin said in a phone interview from Toronto. "These are fundamentally cheap assets."
Gross, who rose to fame managing what was the world's largest bond fund at Newport Beach, California-based Pimco, told Bloomberg News last week China was devaluing its currency because of a weak economy and it would lead to lower inflation worldwide as cheap Chinese goods got even cheaper.
Gross Recommendation
The money manager, still based in Newport Beach but at Janus Capital Group Inc., recommended buying long term U.S. government bonds which benefit if low inflation keeps the Federal Reserve from raising interest rates.
Traders in Canada paid heed, pushing the cost to protect against inflation for 10 years -- measured as the yield difference between government bonds with the protection and those without -- to 1.28 percent, the lowest since the 2009 recession, Bloomberg data show.
While Devlin concedes China's move is deflationary for the global economy, he says it remains to be seen to what degree, and as an investor with a long time horizon he trusts the Bank of Canada to do what is needed to meet its inflation target.
This year, Canadian inflation has held below the central bank's 2 percent target, averaging 1 percent through June and prompting the central bank to cut rates twice to stoke growth and bolster consumer prices. Linkers, known locally as real return bonds, got a boost each time.
Linker Returns
The debt is on track to return 4.3 percent this year, compared to 3.7 percent for government bonds that don't have inflation protection, according to Bank of America Merrill Lynch data. U.S. inflation-linked bonds are down 1 percent.
Canada will report July inflation data Friday, with private sector economists forecasting the annualized rate rose to 1.3 percent from 1 percent, according to the median of a Bloomberg survey.
Inflation is expected to hit the central bank's target in the first three months of next year, according to a separate Bloomberg survey conducted Aug. 7 to Aug. 12.
For Devlin, Canada also has a natural offset to one of the main forces of deflation sweeping the globe, lower oil prices.
A glut of supply has pushed crude prices to their lowest in six years and fears of slower growth in China, the world's second largest economy, compounded that.
In Canada, where oil is the largest export, this means slower growth and inflation, but so far it's also meant a weaker currency. The Canadian dollar has dropped 5.7 percent this year against a basket of 10-industrialized peers.
A falling currency makes imports more expensive, and so brings some inflation back into an economy.
"While we've got disinflation from commodity prices and specifically energy, we've got inflation coming from the depreciation of the currency," Devlin said. "So to me, when I look on balance, I still think real return bonds make sense."
Before it's here, it's on the Bloomberg Terminal.
LEARN MORE