Weaker Yuan Adds to Headwinds Facing Chinese Online Travel Sites
Currency's weakening will make overseas travel less affordable

Shares of market leaders Ctrip and Tuniu decline in New York
If a slowing economy and intensifying competition weren't putting enough pressure on Chinese travel websites, now the industry faces another potential obstacle to growth: a weaker local currency.
The government's decision to allow markets greater sway in setting the yuan's exchange rate triggered the biggest selloff in more than two decades. Trip-booking sites from Ctrip.com International Ltd. to Tuniu Corp., which have profited from the nation's boom in overseas travel, slumped last week on concern consumers may be less inclined to go abroad with the currency worth less overseas.
While the number of Chinese who book trips online keeps growing, tougher competition has crimped profit margins at Ctrip, China's biggest online travel agency, to the narrowest since 2003 last year. Analysts project that Tuniu won't become profitable in at least the coming two years, and Qunar Cayman Islands Ltd., which competes with Ctrip in hotel booking, won't post a net income until 2017. The forecasts show that sales growth at these companies may begin to drop from next year as the nation's economy expands at the weakest pace in 25 years.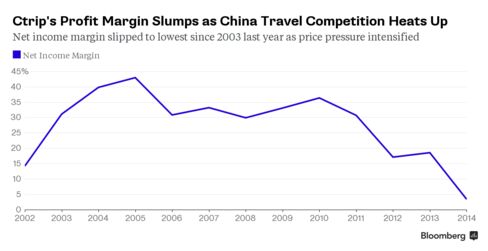 "The yuan's depreciation, if it continues, will curb the demand for travel abroad, especially those high-end trips and shopping tours," Juan Lin, a Shanghai-based analyst at 86Research Ltd., said by phone Friday. "The growth in this sector will likely continue. A weaker currency will cool the strong momentum."
Rising incomes and an expanding middle class mean mainland Chinese travelers now represent 10 percent of global tourism and more than a quarter of spending on luxury goods, with 70 percent of these goods purchased abroad, data compiled by consulting firm Bain & Co. show.
Sensitive Businesses
Ctrip may suffer more from a weakening yuan than Qunar because its international business contributes more to sales than peers, according to Cheng Cheng at Pacific Crest Securities. Tuniu is also sensitive to currency fluctuation as it focuses on overseas packaged tour businesses, the analyst said in a phone interview.
Ctrip's hotel reservation business derives about one-fifth of its revenue from international trips, and the portion is similar in air tickets, Chairman James Liang said this month. Analysts project Ctrip's net income margin will drop to 7.1 percent this year, compared with 7.7 percent in 2014 and 45 percent five years ago.
Tuniu's share in the online outbound travel market rose to 20 percent in 2014 from 16 percent in the prior year, Chairman and Chief Executive Officer Dunde Yu said in March. The company has lost money in each year since 2011 and its gross margin fell to the lowest in a year in the first quarter.
The number of Chinese overseas tourists surged 10-fold to more than 100 million in 2014 from 1998 as its economy expanded to become the world's second-largest, data from the National Tourism Administration show.
Industry Consolidation
The yuan weakened for three consecutive days as the central bank announced Tuesday a 1.9 percent cut to the its daily reference rate, dropping 3 percent against the dollar. The slide halted on Friday as the currency gained 0.1 percent to 6.3918 per dollar in Shanghai.
While a continued depreciation of the yuan will crimp consumer demand for international travels, a decline of 4 percent to 5 percent probably won't have much of an impact, Cheng said.
The intensified competition has forced the travel agencies to step up consolidation. Ctrip invested in smaller service eLong Inc. in May and aims to team up with Tencent Holdings Ltd., the nation's second-biggest Internet company, to drive more online transactions. Tuniu acquired two companies in March to reinforce its strength in overseas packaged tours.
Ctrip's American depositary receipts fell 5.2 percent last week to $71.58 in New York, the largest slump in two months. Qunar tumbled 12 percent in the steepest drop since May, and Tuniu slid 3.4 percent.
Competition in this sector will remain "fierce" because of strong volume growth from these travel service companies, said Cheng at Pacific Crest. "There's a lot to gain if you can take share."
Before it's here, it's on the Bloomberg Terminal.
LEARN MORE