A New Wave of Activist Funds Seeks Changes in Japanese Firms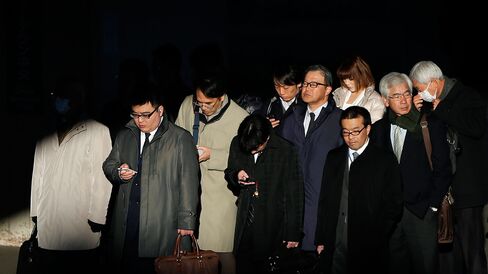 The ranks of Japanese hedge funds seeking to shake up the nation's insular corporate culture are growing.
Misaki Capital Inc. and Symphony Financial Partners join at least half-a-dozen investors trying to benefit from the government's push to make the nation's companies more attractive, including Daniel Loeb, private-equity firm Permira Advisers and Japanese activist investor Yoshiaki Murakami.
Misaki, which started a fund in October with 10 billion yen ($80 million), expects to more than double its assets under management in six months and plans to work with companies to boost their profits, according to Yasunori Nakagami, Misaki's chief executive officer. Symphony Financial in May began a new $225 million pool betting that more Japanese firms will increase their dividend payout ratios and buy back shares to boost shareholders' value.
"We went from being the only participant in this dialog with management to be more like a round-table," David Baran, co-founder of Symphony Financial, said in an interview. "It's very different when one person or one investor asks for it versus 10. This creates a different set of opportunities."
Japan is shaking off a corporate culture largely built around so-called cross-shareholdings, where business partners act as passive stock owners that support management regardless of its performance. In the past year, Prime Minister Shinzo Abe has introduced a stewardship code that calls on shareholders to press companies to boost returns, and a corporate governance code, which requires firms to focus on increasing value for stockholders.
Lower Profitability
Japanese companies have lower return-on-equity ratio and profitability compared with the U.S. and Europe, according to the Ministry of Economy, Trade and Industry.
"If margins don't improve, return on equity won't get better," Nakagami said. "And if ROE remains low, then shares won't perform well in the long run."
Things are looking up. Record share buybacks and an increase in dividends provided shareholders of Japanese companies with a 12.8 trillion yen return in the year ended March, a 76 percent increase from a year earlier, according to Nomura Holdings Inc.
Activist investors such as U.S. investment fund Steel Partners have been thwarted in the past in their attempts to get Japanese companies to boost returns. Bull-Dog Sauce Co., a condiments maker, in 2007 put in anti-takeover measures to fend off Warren Lichtenstein's Steel Partners.
'Inconceivable' Change
Persuading the management of corporations in Japan to make changes was inconceivable five years ago, Baran said. Today, signs of change are surfacing: among the most high-profile activists, Loeb has succeeded in convincing companies like Fanuc Corp. and Sony Corp. to buy back their shares and pay more dividends.
Symphony Financial's SFP Japan Special Opportunities Fund plans to invest in companies with a market value of $700 million to $2 billion, Baran said. Symphony Financial has $755 million under management.
Among the fund's holdings is Enplas Corp., a manufacturer of plastic products for electronic components, which said it will buy back as much as 13.6 percent of its outstanding shares by Sept. 30. The company has a price-earnings ratio of 8.6 times compared with an industry average of 14 times, according to data compiled by Bloomberg. Shares, trading at about 4,835 yen as of Friday, may double, Baran said.
Private Equity
The fund also owns Pacific Industrial Co. The maker of tire valves and electronic control devices used in automobiles in April said it will increase its dividend to 16 yen a share from 9 yen last fiscal year to boost shareholder return. The dividend payout ratio of 19 percent may rise to at least 30 percent, Baran said.
Goldman Sachs Group Inc. recently raised its target price for Pacific Industrial to 1,410 yen. The stock has gained 41 percent this year and is trading at 1,329 yen.
The fund also owns Topre Corp., an auto-parts maker that has gained 42 percent in 2015. The company's profitability measures, its 8.7 percent dividend payout ratio and its enterprise value relative to earnings before interest, taxes, depreciation and amortization, a valuation gauge Baran finds attractive, means that the company could be a target for private-equity firms or strategic buyers, he said.
Second Inning
Misaki goes a step further, advising companies on ways to improve profits, Nakagami said.
The fund holds stocks for three months to as long as three-to-five years because some business strategies take longer to be implemented, he said.
Nakagami met with the new management of Sangetsu Co. last year and started discussions on ways to improve the business. The maker of interior products such as wall paper and curtains has since announced share-buyback plans. The shares have gained 58 percent since Misaki invested in Sangetsu when the fund started in October.
Shares of Sangetsu, Enplas, Pacific Industrial and Topre all beat the 0.5 percent advance in the Topix index on Monday. Sangetsu rose to the highest since 1990, gaining 2.7 percent to 2,307 yen at the close in Tokyo. Enplas increased 1.9 percent, while Pacific Industrial gained 1.1 percent, the most in almost two weeks. Topre added 0.8 percent.
Classy Capital Management Inc., an activist fund set up in 2013 that manages 4 billion yen of assets, plans to set up a pool to meet demand from overseas investors, said Kouichi Katano, its chief investment officer. The fund advises small-to-medium size companies to sell down their holdings of securities of other companies, increase dividends and focus on their main businesses.
"We are in the second inning of the corporate governance," Symphony Financial's Baran said. "Most companies don't know what they are supposed to do, which is good. That's the opportunity."
For more, read this QuickTake: Remaking Japan Inc.
Before it's here, it's on the Bloomberg Terminal.
LEARN MORE