Lost in Fight Over India's Interest Rates: Household Savers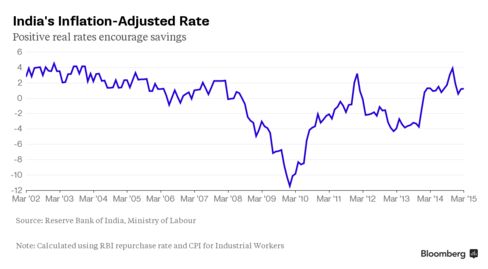 While Indian Prime Minister Narendra Modi has racked up thousands of air miles seeking to woo foreign investors, tapping funds at home is just as crucial.
India's savings rate is at a decade low of 31 percent of gross domestic product, weighed down by sputtering growth and Asia's third-fastest inflation. Modi needs to get it back up to 35 percent of GDP to fulfill the nation's economic potential, according to HSBC Holdings Plc.
"You've got an infrastructure requirement, you've got an industrialization requirement, and you have to fund it," said Anubhuti Sahay, an economist at Standard Chartered Plc in Mumbai. "We cannot completely depend on foreign inflows."
Insufficient savings leaves India more vulnerable to outflows triggered by events such as an expected increase in U.S. interest rates or China's currency devaluation. China's savings rate is 50 percent of GDP, and most Asian powerhouses have kept it above 30 percent for decades, World Bank data show.
Modi has created a company to court sovereign wealth funds and other rich investors to meet his goal of spending $1 trillion on roads and ports over five years. He's traveled from Washington to Dubai seek investment, and Finance Ministry officials have pushed India's central bank to lower interest rates to jump start economic growth.
Reserve Bank of India Governor Raghuram Rajan, however, has sought to keep interest rates high enough to keep inflation within a government-approved target. That makes the returns on savings more attractive as Modi's administration opens more than 170 million new bank accounts.
Real Rates
"Ignoring the saver -- who has had four or five years of negative real interest rates -- and say 'now that they've started actually saving more in financial savings, we should turn and come around and start going back into negative real interest rates?'" Rajan said in an Aug. 5 interview with Bloomberg TV India. "We can't afford to do that as a country."
Households hold more than half of India's total savings. About 60 percent of that is in gold and other physical stores of value.
To get people to invest more in financial assets such as bank accounts and mutual funds, Rajan is seeking to offer inflation-adjusted returns of 1.5 percent to 2 percent in the long term. The so-called real rate turned positive late in 2013 after staying negative for most of the previous five years.
The strategy is having some success. Indian mutual funds' assets under management swelled to an unprecedented 13.2 trillion rupees ($203 billion) in July, after a record 323 billion rupees flowed into stock plans during April-June.
Foreign investors fled India in 2013 when the U.S. first signaled it would withdraw stimulus, pushing the rupee to a record low. The currency was among Asia's worst performers again last week as China's yuan devaluation roiled markets.
Government Plans
While the government is also taking steps to increase household financial savings, the effectiveness of those measures remains unclear. About half of the bank accounts opened under Modi's financial inclusion program are empty.
A draft policy released earlier this year that encourages citizens to lend their gold to banks in exchange for an interest payment needs more work to get banks involved, according to Rajesh Khosla, managing director at MMTC-PAMP India Pvt., the country's biggest gold refiner.
Modi's administration will also consider reviewing the rate on small savings programs each quarter rather than once a year, Banking Secretary Hasmukh Adhia said in a Sunday interview. Inflexible returns on these programs often hamper transmission of the central bank's monetary policy by deterring savers at times of monetary tightening and diverting funds from bank deposits during easing.
Linking the rate to market returns will be a tough political decision as the government has budgeted inflows from these programs, Saugata Bhattacharya, an economist at Axis Bank Ltd., told Bloomberg TV India.
Demographic Promise
Fortunately, age is on India's side, according to HSBC. More than 80 million Indians are poised to enter the workforce over the next five years, which will mean an extra $44 billion in savings over the period, the bank estimates.
All this bodes well for India, according to Sonal Varma, a Mumbai-based economist at Nomura Holdings Inc.
"One would expect savings to pick up, which obviously is extremely important in terms of funding the investment cycle," she said.
Before it's here, it's on the Bloomberg Terminal.
LEARN MORE