Iraqi Premier Trims Cabinet Size in Effort to Curb Graft
Iraqi Prime Minister Haidar Al-Abadi has abolished four ministries and cut his cabinet to 22 from 33 in a push to cut government waste as lower oil prices choke off revenue.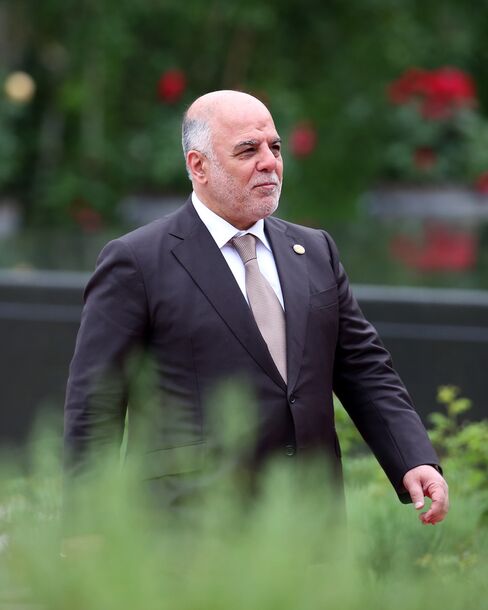 Three deputy prime minister positions and ministries including those responsible for human rights and women's affairs were scrapped, according to a decree posted Sunday on Al-Abadi's website. Responsibilities of eight other ministries will be merged into four.
Thousands of Iraqis took to the streets in recent weeks to protest corruption in OPEC's second-biggest oil producer.
With the plunge in crude and the battle against Islamic State militants depleting state coffers, bribery and abuse of power are compounding the nation's economic woes. Iraq is among the world's most corrupt nations, according to an index compiled by Transparency International.
Ayatollah Ali Al Sistani, Iraq's top Shiite cleric, urged the prime minister on Aug. 7 to tackle the problem and fire any official "who tries to hinder reform, no matter what their position is."
Since then, al-Abadi has moved to eliminate a variety of senior government posts and authorized an investigation into suspected graft.
A report prepared by an Iraqi parliamentary panel for the legislative body has implicated Abadi's predecessor, Nouri al-Maliki, and other former top officials in the fall of Mosul to Islamic State last year.
Committee members have prepared a list of 38 officials suspected of corruption, "and al-Maliki is at the head of it," said Haneen Qado, a lawmaker and one of the committee's members, said by phone.
Maliki, who was prime minister from 2006 until a year ago, had been accused of antagonizing and alienating Sunni tribal groups, creating a rift that helped the radical Islamic State forces make gains.
Before it's here, it's on the Bloomberg Terminal.
LEARN MORE