Indonesian Plane With 54 Aboard Goes Missing; Search Halted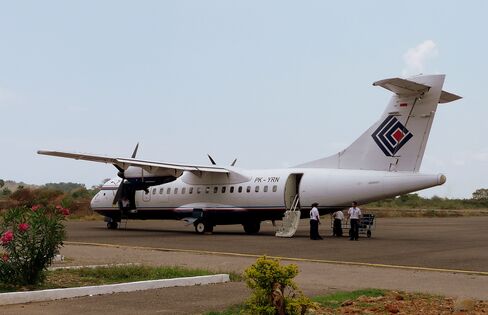 An Indonesian plane carrying 54 people remained missing for more than seven hours after losing contact with air traffic control amid cloudy weather in the Papua region. Authorities called off an aerial search as night fell.
Flight IL267 belonging to Trigana Air was on its way to Oksibil from Sentani in Jayapura when contact was lost, Transport Ministry spokesman J.A. Barata said in a text message. Sentani is located below the equator, about 5,400 kilometers (3,300 miles) to the east of Indonesia's capital Jakarta.
"The weather was clear when the airplane took off, but 10 minutes before it was to land, it became cloudy and the airport wasn't visible due to heavy cloud," Raymond Konstantin, operation officer at Jayapura Search and Rescue Office, told Bloomberg News by phone Sunday. "Maybe they could no longer see the airport. Weather can change very fast in the mountains."
Authorities are sending cars to inspect the Okbape village, near Oksibil, after local villagers said they saw an airplane flying in that direction, he said. The village is accessible by land and from there, the search team will scour the mountainous region by foot.
The terrain in the region is best compared to the Amazon basin -- aggressive, inhospitable and unnavigable by foot, according to a September risk report by aviation consulting firm Martin Consulting LLC. Indonesia Papua and Papua New Guinea are one of the world's highest risk aviation regions, according to the report.
Dangerous Weather
"The weather characteristic of the region is tropical, which means constant low clouds, high rain clouds, which are dangerous and unforgiving if entered by accident by an aircraft or a helicopter," Dubai-based Mark D. Martin, founder and chief executive officer of the consulting firm said in an e-mail to Bloomberg News.
The hunt for the missing plane will resume in the morning, Indonesian search agency Basarnas said in a Twitter posting. The aircraft took off at 2:22 p.m. Papua time, which is two hours ahead of Jakarta, and was scheduled to arrive in Oksibil at 3:04 p.m. The flight lost contact with the Oksibil tower at 2:55 p.m., Barata said.
The turboprop plane, made by Avions de Transport Regional, was carrying 44 adult passengers, five children and infants and had five crew members, Basarnas said on its Twitter account. There was no indication that the pilot had made a distress call, the Associated Press reported, citing Barata.
Asian Crashes
The missing aircraft once again brought aviation safety in Asia back into focus after a spate of crashes in the past two years. In December, a plane belonging to the Indonesian unit of AirAsia Bhd. crashed into the ocean, killing all on board. Last year, Malaysia Airlines lost two aircraft while Taipei-based TransAsia Airways Corp. suffered two fatal crashes in the past two years.
Flight 267 was operated using an ATR 42-300 and the aircraft had its first flight 27 years back, according to Aviation Safety Net, a website that collects information about aviation accidents.
Trigana Air Service, which is on the list of airlines banned within the European Union, had eight previous accidents or incidents since 2002, according to Aviation Safety Net. The airline provided no additional information about the missing plane.
A call to the office of planemaker ATR in France wasn't answered outside office hours.
Indonesia's Issues
A spate of crashes in the past decade prompted Indonesia in 2008 to amend laws and boost plane-safety checks after the E.U. imposed a ban on its carriers from flying to Europe. The ban has been partially lifted since then.
AirAsia's Flight 8501 crashed in December after taking off from Indonesia's Surabaya to Singapore without a transport ministry permit to fly that day. The government suspended the license of AirAsia for that route, found other airlines in breach of permits, and removed officials involved from the ministry, state air-navigation operator AirNav Indonesia and state airport company PT Angkasa Pura 1.
Three crashes involving the most modern airliners made last year the deadliest for air travel in almost a decade. The loss of two Malaysia Airlines Boeing Co. 777s, as well as AirAsia crash in December, killed 665 passengers, accounting for 75 percent of the annual toll of 884, according to safety consultant Ascend Worldwide.
In February, an ATR 72-600 aircraft belonging to TransAsia Airways Corp., crashed into a river near Taipei moments after taking off. Another ATR plane belonging to the same airline had a crash in July last year.
Before it's here, it's on the Bloomberg Terminal.
LEARN MORE