Catalans' Separatist Challenge to Spain Sets Bondholders on Edge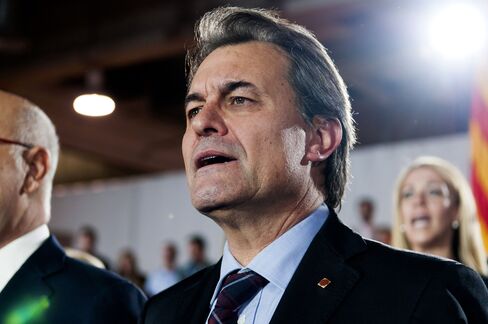 Catalonia's determination to gauge support for independence from Spain at the ballot box is unnerving investors as they weigh the cost of a possible breakaway by the country's biggest regional economy.
Catalan bonds due in February 2020 have fallen, pushing the yield up this month to its highest level since early 2014 compared with that of similar-maturity German bonds. In the same way, Spain's government-debt yield rose versus Italy's. That reflects greater economic risks from the region's Sept. 27 vote and from national elections due by year-end, said Borja Gomez, director of analysis at Madrid-based brokerage Inverseguros.
The decision by Catalan President Artur Mas to call the vote sets up a new clash with the central government of Prime Minister Mariano Rajoy. Mas has framed the process as a black-and-white decision on whether the 198 billion-euro ($221 billion) economy can go it alone as a sovereign nation.
"It's pretty obvious that the political situation over Catalonia has deteriorated quite significantly," said Cesar Molinas, a former head of European fixed-income strategy at Merrill Lynch & Co. who is the founder of Multa Paucis, an investment consultancy firm.
Rajoy, a first-term premier, is preparing to fight for re-election saying he's the best-qualified leader to nurture Spain's economic recovery. The Catalan challenge revives concern by investors in getting future payments from the region's bonds if its confrontation with Madrid escalates.
Yield Spreads
The yield spread investors demand for the Catalan government's 4.95 percent debt due in February 2020 over comparable German debt has widened. It was at 329 basis points, or 3.29 percentage points, on Monday at 5 p.m. in London, versus 180 basis points in mid-March, according to data compiled by Bloomberg. It reached as high as 333 basis points on Aug. 5. Compared with Spanish debt, the spread has jumped to about 250 basis points from 123 basis points.
"We have these elections in Catalonia in September and there will be investors that are reducing their exposure," said Xavier Cebrian, a fund manager at GVC Gaesco Gestion in Barcelona, who helps manage about 1 billion euros.
The Mas-led government has said it is devising a method to divide assets and liabilities with Spain as part of an eventual separation. Spain is the biggest creditor of Catalonia.
Located in the northeastern corner of the Iberian peninsula, Catalonia is Spain's biggest regional economy, accounting for almost a fifth of national output.
Opinion Survey
After the Spanish state refused to recognize an informal vote on separation held by Mas in November, he stitched together an alliance of pro-independence parties to fight next month's election, saying secession would happen within 18 months if the platform wins. Mas announced the date of the ballot on Aug. 3.
In a Bloomberg survey of 13 economists last week, five said they already factor in some kind of an impact from the Catalan election into their valuation of Spanish bonds. Two said they plan to. These analysts allocate a median risk premium of 20 basis points for Spanish debt because of the Catalan challenge, according to the survey.
It's unlikely that Mas will succeed in his push because it's not clear he has enough public support and the Spanish government would do everything to deny him a victory, Molinas said. A poll by NC Report published by La Razon newspaper in late July predicted Mas's pro-independence platform would win 56 seats in the regional parliament, short of the 68 it needs for a majority.
"It's crazy to push for independence if you only have the support of just about half of the population," Molinas said. "My view is that the independence of Catalonia is not going to happen any time soon."
Maintaining Reforms
Investors in Spanish sovereign debt are becoming more nervous about the outcome of national elections due by the end of the year, said Inverseguros' Gomez.
They worry that the result of general elections may lead to Spain reversing reforms, such as changes to labor regulations, that have helped put the country on the path to the growth that the government said will reach 3.3 percent this year.
Even though a recent poll shows support rising for Rajoy's People's Party and slipping for the anti-austerity party Podemos, it's unclear what shape Spain's future government will take. The International Monetary Fund warned Spain against backtracking on reforms in a report published Aug. 14
"Both a separation of Catalonia and a coalition of anti-austerity parties are serious threats for Spain," said Kristian Toedtmann, an economist at Dekabank in Frankfurt. "One would prefer to have no Spanish government bonds at all if only one of these risks materializes -- but as long as they are only pending, it is difficult to attach a price."
For more, read this QuickTake: Catalonia
Before it's here, it's on the Bloomberg Terminal.
LEARN MORE