BOE's Forbes Sees Risks If Rate Kept at 0.5% for Too Long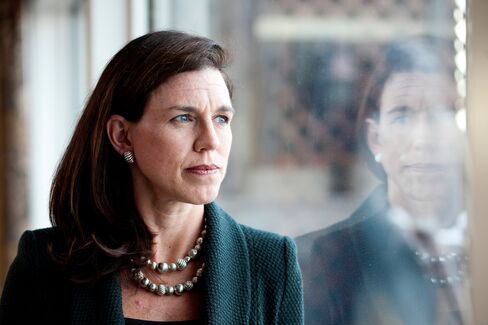 Bank of England policy maker Kristin Forbes said the central bank risks damaging the U.K.'s recovery if it waits too long before beginning to raise interest rates.
In an article in the Daily Telegraph newspaper, Forbes said Britain is enjoying a "solid recovery," and that delaying an increase could mean more aggressive tightening later. The benchmark rate has been at 0.5 percent for more than six years.
"Maintaining interest rates at the current low levels during an expansion risks creating distortions," she said. Waiting too long "would risk undermining the recovery –- especially if interest rates then need to be increased faster than the gradual path which we expect."
The comments echo outgoing Monetary Policy Committee member David Miles, who said in an interview published in the Sunday Times that there was an argument to begin raising borrowing costs this month. Minutes of the MPC's August meeting showed that some officials saw upside risks to medium-term inflation prospects and were divided on when to begin removing emergency stimulus.
The pound was trading at 0.7097 pence per euro as of 9:46 a.m. London time, up 0.1 percent on the day, and was little changed against the dollar at $1.5648. Sterling has gained more than 6 percent on a trade-weighted basis this year.
Forbes also noted that the strength of sterling and the recent drop in oil prices mean the pace of U.K. consumer-price gains could stay "low for longer." Data on Tuesday will probably show prices stagnated in July, and economists forecast the inflation rate will remain close to zero for months.
Evidence Needed
For Forbes, an external member on the MPC, the headline number doesn't tell the full picture and may "obscure growth in underlying cost pressures."
She said the start of rate increases will depend "critically on when there is more evidence" that inflation is heading toward the BOE's 2 percent target. Her key indicators are domestically generated inflation, core inflation and the passthrough from sterling's recent appreciation to prices.
BOE policy makers including Governor Mark Carney have said the strength of the domestic recovery means the time for rate increases is approaching. Carney expects price growth to pick up in 2016 and said the decision on tightening will come into "sharper relief" around the turn of the year.
"When you look across the U.K. economy there are large parts of it operating in a fairly normal way," Miles, whose term on the MPC ends on Aug. 31, told the Sunday Times. "Inflation is near zero, so there is no great hurry, but there was at least a case for starting the journey now."
Forbes also said the time for tighter policy was nearing.
"Enjoy the sunshine and low inflation this holiday season," she said in her article. "But remember that neither are likely to persist. Stay vigilant against sunburn. I and my colleagues on the MPC will also remain vigilant to changes in the economy."
Before it's here, it's on the Bloomberg Terminal.
LEARN MORE