Modi Targets Indian Farmers, Inflation in Independence Speech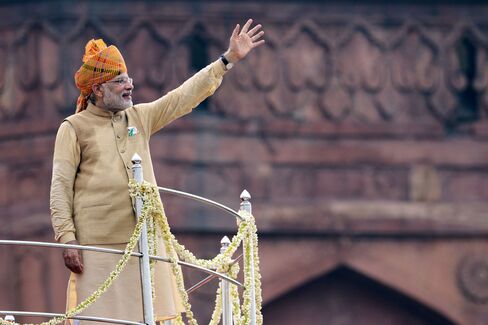 India's Prime Minister Narendra Modi said in his annual independence day address that he has successfully reduced inflation as his government calls for lower borrowing costs.
"Dear farmers, the past year we have had inadequate monsoon rain, the economy was hurt and so were you," Modi said Saturday in New Delhi. "Despite that, we have been able to control prices from double-digits. We will try to bring them down further."
India's wholesale prices in July dropped the most in data going back to 2005 and consumer prices eased to an eight-month low, prompting Modi's government to lobby central bank Governor Raghuram Rajan toward an interest-rate cut. Rajan, who left the repurchase rate unchanged at 7.25 percent on Aug. 4 after cutting it three times this year, has dismissed the calls as he awaits more clarity on inflation.
Modi is focusing on the country's poor before key state elections starting in Bihar later this year that could help him consolidate power and push more ambitious reforms to spur growth. He announced plans to spend 500 billion rupees ($7.7 billion) on irrigation to help farmers improve crop yields and feed the world's second most populous nation.
Black Money
The government has uncovered about 65 billion rupees of so-called black money that will be disclosed and taxed by the end of the year, Modi said, referring to those hiding income and evading taxes on foreign assets.
"Now, no one is trying to sneak their money out of the country," he said in his speech. "We have accomplished more to bring back black money than any previous government."
The government will save 150 billion rupees every year after starting a plan to transfer cooking gas subsidies directly to the bank accounts of households, replacing the physical distribution of liquid petroleum cylinders across the country. This helps to eliminate graft and reduces a 406 billion rupee welfare program, Modi said.
"I want to tell the 1.2 billion people that make up Team India that we can eliminate corruption from the country," he said at the Red Fort. "The corruption is over."
Before it's here, it's on the Bloomberg Terminal.
LEARN MORE