U.S.-Germany World Cup Stadium Focus of Brazil Corruption Probe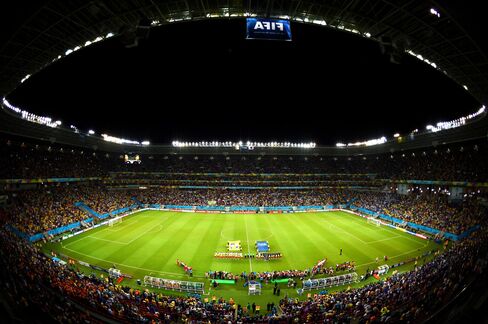 The World Cup stadium where Germany defeated the U.S. last year has become the target of a fraud investigation.
Brazilian police raided the country's biggest construction company as part of an operation into suspected over-billing in the awarding of rights to build one of the 12 stadiums used at last year's soccer World Cup.
Building of the Arena Pernambuco, in the northeastern city of Recife, was led by Odebrecht SA, the construction company that's also being investigated as part of a corruption inquiry involving state-controlled oil giant Petrobras and politicians. Police used search warrants to raid Odebrecht offices across Brazil.
Brazil spent 8 billion reais ($2.3 billion) to build and refurbish arenas used at the World Cup, four times the amount it told soccer's governing body they would cost when it was awarded hosting rights in 2007. Police suspect "overpricing" of 42.8 million reais at the Pernambuco Arena, which ended up 55 percent over budget at 743 million reais.
"The evidence gathered in the investigation indicates the formation of a criminal organization focused on the corruption of public officials," the Federal Police said in a statement.
Odebrecht confirmed offices in six cities, including Rio de Janeiro and Sao Paulo, were raided by police as part of the inquiry. It denied any wrongdoing.
Provide Documents
"The company has full conviction in the regularity and legality of the project," Odebrecht said in a statement, calling Friday's police actions "unjustifiable." It said its executives have always been available to clarify and provide all information and documents to authorities.
The Arena Pernambuco was developed as a public-private partnership. Odebrecht created the consortium that's under investigation for irregularities in the bidding process.
Police allege the company that drew up the rules for the tender process to build the arena rigged it to ensure there wouldn't be competitive bidding. The process included "excessive" technical requirements with a short period of time for analysis and lack of information with the goal of reducing competition, according to the police statement.
In an interview with Bloomberg News last year, Sergio Nogueira Seabra, secretary for transparency and prevention of corruption in Brazil's comptroller general's office, said the excessive costs of the World Cup stadiums meant "there must be some corruption."
Odebrecht, whose President Marcelo Odebrecht remains jailed as part of the probe into Petrobras, got the most World Cup related projects.
Before it's here, it's on the Bloomberg Terminal.
LEARN MORE