RBA's Kent Signals Worst Likely Over for Aussie Jobs Market
Reserve Bank of Australia Assistant Governor Christopher Kent signaled the worst is probably over for the nation's jobs market, suggesting a three-month pause in interest rates could be extended.
"Developments suggest that there will be slightly less spare capacity in the labor market than earlier anticipated," Kent said in a speech Friday. He reiterated that unemployment was likely to be little changed over the next 18 months.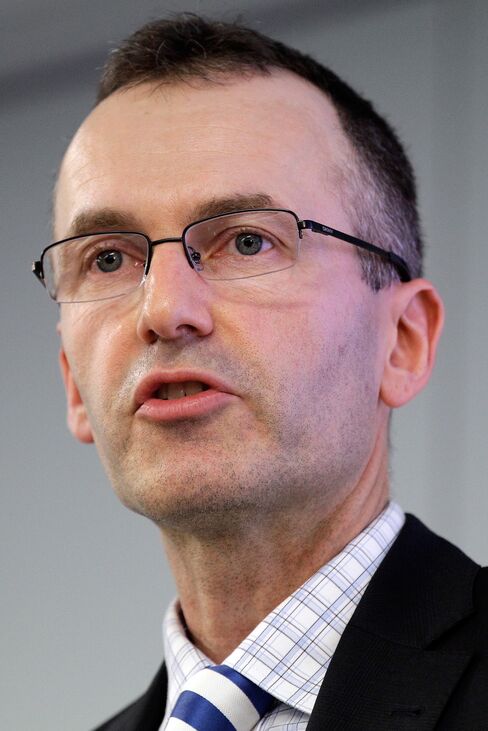 Responding after the address to a question on the outlook for policy, Kent said the RBA board will continue to keep an open mind on interest rates. "There's a slightly positive story to the recent data, but the economy is still growing at a moderate pace. The unemployment rate is still very high," he said.
In his speech, the central bank's chief forecaster identified four factors that allowed for stronger employment growth even as the economy's expansion remains below its potential rate: lower immigration; weak wages growth; stronger hiring in more labor-intensive industries; or statistical errors in measuring hiring and economic expansion.
"It is possible that the current data are providing a noisy signal of what is actually happening," he said.
Surprising Resilience
The RBA has been surprised by the resilience of the labor market given the economy has grown at a below-average pace for six of the past seven years. The weak growth prompted it to cut interest rates to a record-low 2 percent to fast-track expansion by firms outside the mining industry.
"The onus seems to have shifted since May, in that previously, simply not improving from an economic perspective was enough to prompt more easing, whereas now it seems we might need deterioration," Michael Turner, a debt strategist at Royal Bank of Canada in Sydney, said in a research note after the speech.
Kent said Australia's services industries, which require less investment to expand and demand more labor, could account for the better outcome. He noted that it's notoriously hard to measure the expansion of services, but that they tend to be employment-intensive industries.
"The decline in the exchange rate has encouraged Australians and foreigners to direct more of their spending to Australian tourism, education and business services," he said.
Wage Adjustment
Kent said very low wages growth has supported employment. While acknowledging that smaller pay increases hurt demand, he said they also aid it by resulting in more people having jobs.
Part of the reason for the wage adjustment could also be to retrace substantial increases during the mining boom, he said.
"In the face of significant structural change in the economy, the labor market has been adjusting more smoothly over the past year than we had been expecting," Kent said.
Pressure to further stimulate Australia's economy has also been relieved by a weaker currency, allowing Governor Glenn Stevens in his Aug. 4 policy decision to omit a reference to the local dollar being too high for the first time in 18 months.
The central bank last week cut its forecast population growth to account for lower immigration. The working age population is assumed to grow at an annual 1.5 percent over the next 2 1/2 years, about a quarter percentage point lower each year than forecast three months earlier. It also put back a forecast upswing in economic growth by a year to 2017.
"The decline in population growth was mainly the result of a decline in net immigration," Kent said. "This appears to be related to the weakening in Australia's labor market conditions relative to those of other countries."
Still, he said, the labor market looks healthier.
"Even though measured GDP growth has remained moderate over the past year or so, the unemployment rate appears to have stabilized and demand for labor has picked up," Kent said. "We expect the unemployment rate to be little changed from recent levels over the next 18 months or so, before declining in 2017."
Before it's here, it's on the Bloomberg Terminal.
LEARN MORE