Macquarie: China Is Caught 'Between a Rock and a Hard Place'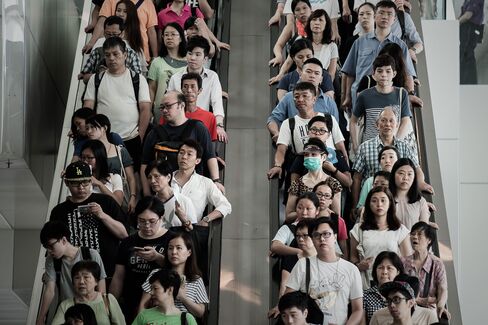 The most consequential event for global markets this week was China's decision to devalue the yuan and allow market forces to have a greater say in its future fluctuations.
The immediate effects were not limited to foreign exchange but also reverberated across the commodity complex, as well as among global equities.
The underlying dynamics of the Chinese economy, however, underscore that a lower yuan isn't necessarily a panacea for what ails the country—and the care with which the exchange rate must be managed.
Viktor Shvets, head of Asia strategy at Macquarie, explains the fine line that Chinese policymakers have to walk on the value of the currency:
China is between a rock and a hard place. On the one hand, the Rmb exchange rate remains at the highest levels since early/mid 1990s, particularly against its key competitors but on the other hand the government also needs to maintain domestic liquidity and minimise capital outflows whilst avoiding extreme currency mismatches in banking and corporate sectors. This has always been at the heart of China's unsustainable policy of stable currency, controlled growth and high domestic liquidity.
Even with rising labor costs and an overvalued yuan, China remains "a highly competitive global economy," as evident in its outsized and growing share of global exports, writes Shvets.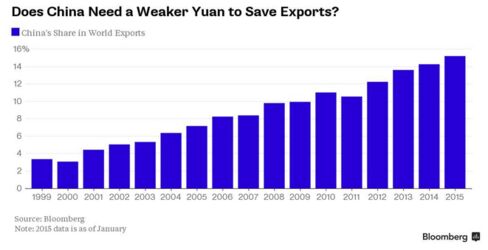 However, it's more challenging for exports to contribute to the economy's expansion in an environment in which virtually all currencies are depreciating, relative to the U.S. dollar, and global trade volume growth has been decelerating.
Prior to the abrupt drop in the yuan, Chinese corporations had been paying down foreign exchange liabilities in anticipation of potential weakness. The currency's lower value makes it necessary for Chinese companies with U.S. dollar-denominated debt to dedicate a higher portion of cash flow to servicing these obligations.
Maintaining or enhancing domestic liquidity is more difficult in the face of capital outflows that are spurred by a depreciating currency, which can cause a negative feedback loop reinforcing further declines in the yuan and exacerbating the adverse effect on liquidity conditions. According to Shvets, "China's liquidity growth rates are currently at levels that are proving insufficient to support existing 3x debt burden (private and public debt to GDP) whilst allowing sufficient space for continuing leverage (without popping asset bubbles)."
China has many tools at its disposal to stimulate growth and mitigate the effect of a lower currency on domestic liquidity, but investors may well be whipsawed over the next few years if policymakers don't use them quickly enough, says Shvets.
The strategist contends that real interest rates and the elevated reserve-requirement ratio both have room to run to the downside, which would be consistent with monetary easing and increased liquidity, while the government can also take steps to recapitalize the banks and expand fiscal stimulus.
But if action isn't taken expeditiously, he warns that China could send deflationary tremors through the global economy, following by an inflationary wave in the event that policymakers overreact to an economic slowdown.
The strategist remains persuaded "that China is at early stages of a significant stimulatory cycle" and—like the European Central Bank over the past six years—will make the transition from a tentative to a more aggressively accommodative stance.
But the near-term balancing act for Chinese policymakers remains daunting: ensuring that the currency is in a position to maintain or boost the market share of Chinese exporters without sparking the kind of full-fledged capital flight that would have a debilitating effect on domestic liquidity.
Before it's here, it's on the Bloomberg Terminal.
LEARN MORE