Little Reason for Cheer in Ukraine Even as Economy Bottoms Out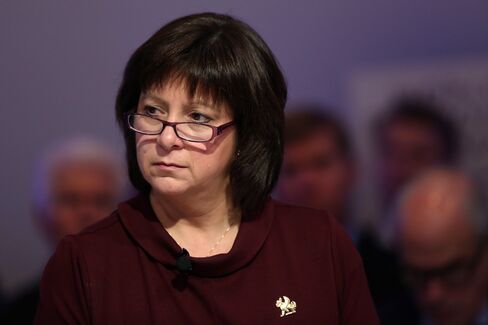 The end may be in sight for Ukraine's recession but there's not much to look forward to.
The economy shrank an annual 14.7 percent between April and June after a 17.2 percent drop in the previous three months, ending a run of four straight quarters of accelerating decay. On a quarterly basis, it may even resume growth in the next period, according to the government.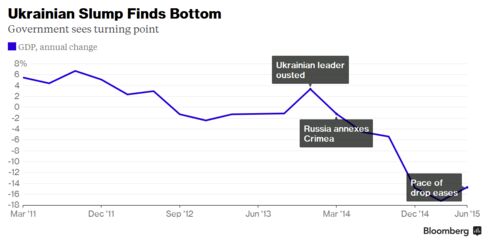 That's where the good news ends. Consumers have been crippled as a sinking hryvnia drove inflation to more than 60 percent, while loan costs skyrocketed along with the central bank's benchmark, now stuck at 30 percent.
Elsewhere, as the separatist war in Ukraine's industrial heartland out east cranks up again, and debt-restructuring talks drag on, there's little mood for investment. And saddled with a growing debt pile and austerity as part of a $17.5 billion International Monetary Fund bailout, the economy can't look to government spending for support.
"There are no real reasons for economic recovery," Alexendar Valchysen, head of research at Investment Captial Ukrain in Kiev, said by phone. "There are no grounds to expect business to pick up as the banking industry is in maintenance, the capital market doesn't operate, and there are no investments coming to Ukraine."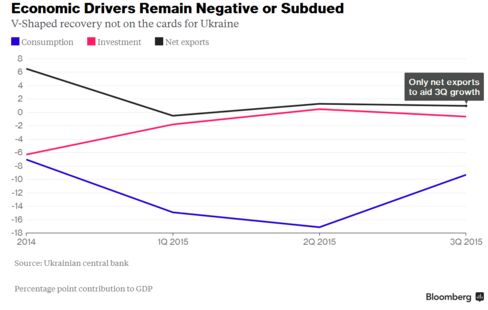 The only driver of the recovery is net exports, and it's hard to look at that as a plus. Rather than signaling a revival in foreign sales on the back of the weaker hryvnia, the central bank has said the number will stay positive because of a plunge in imports.
Before it's here, it's on the Bloomberg Terminal.
LEARN MORE