Japan's Nuclear Restarts Seen as Long-Term Drag on LNG Prices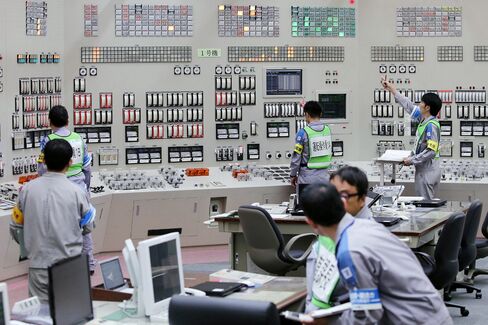 Japan restarting its nuclear reactor fleet will keep pressure on depressed liquefied natural gas prices for years as the nation's electricity utilities, the biggest buyers of the fuel, reduce purchases.
Japan turned to LNG for gas-fired power plants as safety concerns forced the shutdown of all the country's reactors after the March 2011 Fukushima nuclear disaster.
The country purchased a record 89 million metric tons of LNG in the year ended March 31, according to trade data from the Ministry of Finance. The fuel accounted for 46 percent of Japan's energy mix in that year compared to 29 percent in 2010, according to the Federation of Electric Power Companies.
Running reactors would also dent demand for other fossil fuels. If three reactors restarted this year it would cut fuel oil demand by 80,000 to 100,000 barrels a day, according to Citigroup Inc. analysts.
"The restarting of nuclear is only one of several seismic shifts now underway in Japan with substantial long-term impacts on global LNG," the Citigroup analysts including Anthony Yuen wrote in a note dated August 12.
The price of LNG will be deflated by the deregulation of Japan's power, gas and transmission markets, more joint procurement deals and the expiration of long-term contracts with large volumes, according to Citigroup.
Citigroup expects global LNG prices will trade within a range of $6 to $8 per million British thermal units from now to 2020.
LNG Loss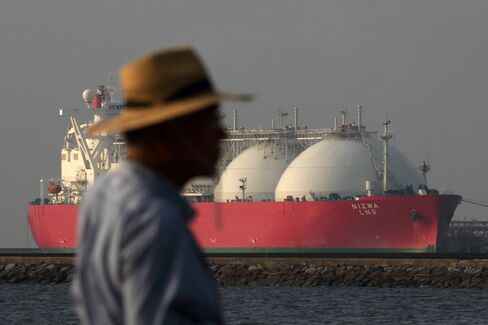 As LNG prices are linked to oil costs, the spot price for the liquefied gas in Northeast Asia has already slid 27 percent to $8.10 million British thermal units in the last 12 months, according to pricing from New York-based Energy Intelligence. Benchmark Brent crude oil has fallen more than 50 percent in the same period.
In another spoiler for LNG: Supply is increasing from Australia and the U.S., further weighing on prices, said Ali Izadi-Najafabadi, an analyst at Bloomberg New Energy Finance.
BG Group Plc began shipments from its Queensland Curtis LNG project in Australia late last year. And Cheniere Energy Inc. will start operating its LNG terminal in the U.S. later this year.
Japan may boost its nuclear output to 11.5 gigawatts by March 31, 2017, according to the average of four analyst estimates compiled by Bloomberg.
Roughly 10.9 million tons of LNG, a quantity equivalent to about 12 percent of the country's imports last year, would be required to generate that same amount of power over a year, according to calculations by Bloomberg.
Before it's here, it's on the Bloomberg Terminal.
LEARN MORE