Gundlach, BlackRock Now Buying Top-Rated Debt They Had Shunned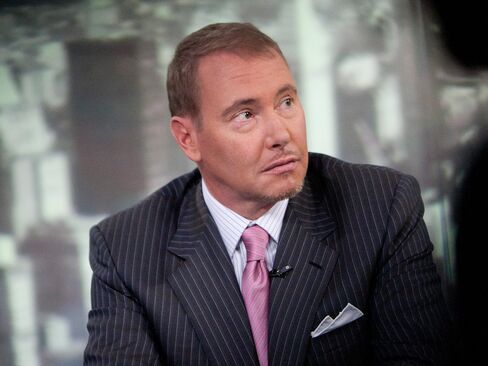 Unsettled Markets Make Safe Bonds Enticing to Big Buyers

High-Grade Bond Yields Rise as Possible Fed Rate Hike Nears
Bonds issued by the highest-rated and most financially sound U.S. companies are once again appealing to the world's biggest debt investors.
Firms such as Jeffrey Gundlach's DoubleLine Capital, BlackRock Inc. and Morgan Stanley's investment arm are purchasing increasing amounts of investment-grade credit. They're doing so as investors flee risky securities across the global markets, making safe, secure corporate bonds attractive.
Investors globally are concerned that slowing growth in China and a worsening commodities slump will spill over into the U.S. economy and threaten risky assets. With economists projecting that the Federal Reserve will raise interest rates in September, money managers are more worried about the broader impact of these events than losses from rising rates. This caution has opened the door for investment-grade corporate securities, which have healthy underlying fundamentals and are paying a premium yield in a low-inflation environment.
"Growth has not been a barn burner, and no matter how you shake it the market is not pricing in a Fed rate hike as something to fear," said Bonnie Baha director of global developed credit at DoubleLine, which started adding to its investment-grade position last month. "Rather, it's pricing in the unintended consequences of a Fed rate hike, and you have to be defensive."
Fool's Game
Large blue-chip companies are posting better results than their smaller competitors. Of the members of the S&P 500 that have released earnings this season, 74 percent beat profit estimates. And for every investment-grade company that has had its credit rating downgraded this year, nearly three others have been upgraded -- almost twice the ratio of the past decade.
Meanwhile, U.S. corporate debt is yielding 1.64 percentage points more than Treasuries, the largest premium in more than two years, according to Bank of America Merrill Lynch indexes.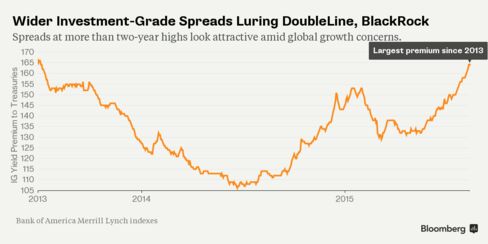 "There is value from a fundamental perspective, especially compared to a few months ago," said Jim Caron, a money manager at Morgan Stanley, which oversees $406 billion. "High-quality companies have a lot of cash on their balance sheets and are doing well."
These factors only recently started helping investment-grade debt. Just a few months ago, it was under-performing stocks, junk bonds and even government securities. But that scenario has flipped.
Unprecedented Pace
This is not to say that U.S. investment-grade corporate debt is booming. It has lost 0.1 percent this year, outpaced by gains of 1.04 percent in government securities and 0.05 percent in junk bonds, according to Bank of America Merrill Lynch indexes.
The low yields combined with more than $917 billion in issuance -- which is an unprecedented annual pace -- have weighed on the the market, pushing up borrowing costs. In addition, the massive level of corporate borrowing has caused some to warn that companies are becoming too aggressive.
But the worst commodities slump in 13 years, China, and concern that Fed rate hikes are just around the corner mean buyers are suddenly willing to give the investment-grade market another look
Indeed, investment-grade corporate bonds stands to benefit from a lack of concern about the Fed's move, DoubleLine's Baha said. Just look at the yield on the 30-year Treasury bond, which has fallen by nearly half a percentage point since early June. Indeed, the market appears to be betting there's a lid on how high yields can go, given the low inflation.
Deflationary Threat
"There is a new threat to global growth, and it's deflationary," said Jeffrey Rosenberg, chief investment strategist for fixed income at BlackRock, the world's largest investment firm with $4.4 trillion in assets under management. BlackRock recently reversed its "underweight" designation on the asset class and is buying longer-dated corporate debt.
Unlike economists, bond traders see the odds of the Fed raising interest rates as roughly the flip of a coin. And even if the Fed does move, investors believe the state of the economy will contain any future increases to a slow and steady pace.
"Growth has been so modest and inflation so low that there is no pressure for the Fed to tighten aggressively," said Donald Ellenberger, who oversees about $10 billion as head of multi-sector strategies at Federated Investors in Pittsburgh. "The credit cycle could go on longer than people think."
Before it's here, it's on the Bloomberg Terminal.
LEARN MORE