Frank Gifford, Manuel Contreras, Richard Ross: Obits This Week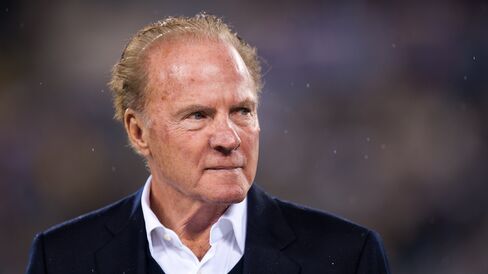 This week's notable deaths included the National Football League Hall of Fame player who starred on the field and in the broadcast booth, and the head of Chile's secret police under dictator Augusto Pinochet. Below are summaries of these and other obituaries.
Frank Gifford, 84. First-round draft pick of the New York Giants in 1952 whose skills as a running back and receiver led the team to an NFL title in 1956. He helped the Giants to finish in first place in the league's Eastern Division six times from 1956 to 1963. Gifford retired after the 1964 season, and seven years later joined ABC's "Monday Night Football" TV program, where he worked as a commentator for 27 years. Died Aug. 9 at his home in Connecticut.
Manuel Contreras, 86. Former chief of Chile's National Intelligence Directorate, which was linked to the deaths of more than 1,500 people -- and the torture of thousands more -- during the dictatorship of Pinochet. In 1995, the former general, known as Mamo, was sentenced to more than 500 years in prison for human-rights abuses that occurred from 1973 to 1990. Died Aug. 7 from multiple organ failure at a military hospital in Santiago.
Richard S. Ross, 91. Cardiologist who served as dean of the Johns Hopkins University School of Medicine from 1975 to 1990, the second-longest tenure in the school's history. He had been president of the American Heart Association in the early 1970s. Died Aug. 11 and had Parkinson's disease.
Frances Oldham Kelsey, 101. As a new employee at the Food and Drug Administration in 1960 who reviewed requests to license new drugs, she blocked approval for William S. Merrell Co. to sell thalidomide in the U.S. The drug, which had been prescribed to treat pregnant women in Europe and elsewhere for morning sickness, caused thousands of babies to be born with birth defects. Died Aug. 7.
Carolyn M. Kaelin, 54. Breast cancer surgeon who was the founding director of the Comprehensive Breast Health Center at Brigham and Women's Hospital in Boston. When her career as a surgeon ended after she was treated for breast cancer, she became an advocate for women who had the disease, writing books, developing educational programs and raising money for poor patients. Died July 28 of a brain tumor at her home in Charlestown, Massachusetts.
Before it's here, it's on the Bloomberg Terminal.
LEARN MORE