Flash Crash Trader Sarao Released as He Fights Extradition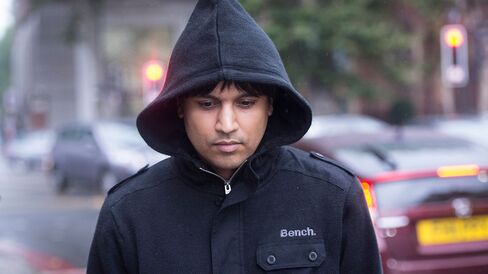 The trader charged over his role in the 2010 U.S. flash crash was released after four months in a London prison as a judge changed the terms of his bail while he fights extradition.
Navinder Singh Sarao won his release by disclosing the existence of roughly 25 million pounds ($39 million) worth of assets invested in Switzerland that will be secured by the U.S. Sarao will have to pay 2.5 million pounds from the Swiss assets to the court once the money becomes available.
Sarao has been in jail since he was arrested in April at his house in London's Hounslow neighborhood, and charged by U.S. prosecutors with fraud and market manipulation. Authorities said he was responsible for one in five sell orders during the frenzy on May 6, 2010, when investors saw almost $1 trillion erased from U.S. stocks in minutes.
Sarao left Westminster Magistrates' Court in the rain, wearing a dark jacket with a hood pulled over his head, with his lawyer and didn't speak with the press, Reuters reported.
His bail was originally set at 5 million pounds based on funds in his trading account before they were frozen. Two previous attempts to have the security waived were unsuccessful because the U.S. alleged he had made $40 million profits, most of which were unaccounted for.
The disclosure of the 25 million pounds in Switzerland satisfied the U.S. authorities, who didn't oppose the renewed bail application.
Long Hair
Lawyers for the 36-year-old told the court that their client had been preliminarily diagnosed with Asperger's Syndrome, which will be a key part of their fight against extradition. Sarao, whose hair has grown out while in prison, sat with his head bowed throughout the proceedings.
A hearing on his extradition is scheduled for September, although Sarao's lawyers are seeking a delay.
The judge said Sarao won't be able to leave the greater London area circled by the M25 highway and can't access the Internet for "fiscal" purposes. Usually defendants on bail are allowed to go anywhere in England and Wales. His parents have already paid a 50,000 pound-surety as part of the original conditions for his release.
The 45-minute hearing was free from the dramatics that highlighted a May court appearance when Sarao shouted that he'd "not done anything wrong apart from being good at my job."
Before it's here, it's on the Bloomberg Terminal.
LEARN MORE