Campaign Notebook: Trudeau's Heartfelt Plan to Kick-Start Canada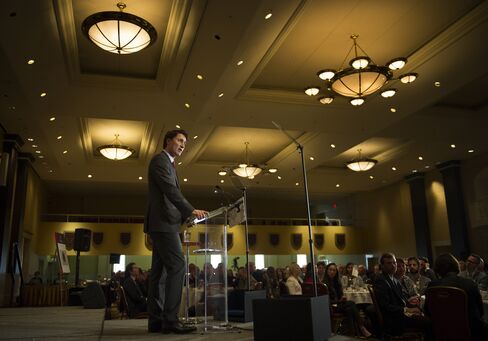 Justin Trudeau bragged about being the leader most open to media questions on Canada's campaign trail, and one answer became the week's flattest sound bite.
Asked Wednesday about rebuilding support in Saskatchewan while standing by Liberal Party's lone incumbent in the province, former finance minister Ralph Goodale, Trudeau said: "We can grow the economy, not from the top down the way Mr. Harper wants to, but from the heart outwards."
Within hours, Prime Minister Stephen Harper's team was making hay of the quip. "Justin is an inexperienced politician who isn't capable of managing Canada's C$1.9 trillion economy," Conservative spokesman Stephen Lecce said in an e-mail that closed with a mocking emoji of three red hearts.
The next day, the Toronto Sun ran a cover image depicting Trudeau as a Care Bear.
Chump Change
While the Conservatives are always eager to highlight Trudeau's missteps, doing so this week also helped distract attention from a high-profile criminal trial in Ottawa.
On Thursday, a former top aide to Harper said writing a C$90,000 ($68,800) personal check to cover dubious expense claims from Senator Mike Duffy wouldn't have an impact on his net worth.
With opposition politicians watching for any hint the prime minister knew about the payment, Nigel Wright said there was no need to tell his boss because he was doing a "good deed" -- and the Bible teaches to do such things "quietly."
Wright has since returned to a job at Onex Corp., a buyout fund. For the record, Statistics Canada reports that the typical family with kids made about as much money in 2013 as Wright signed over to Duffy.
Get Angry
New Democratic Party Leader Tom Mulcair, dubbed "Angry Tom" for his harsh questioning of Harper in Parliament before the election, shifted tone with what pundits saw as an effort to smile more in the first leaders' debate.
As Mulcair boarded his campaign bus in Peterborough, Ontario, last week a woman yelled: "Be yourself, don't smile." The comment had NDP staff and Mulcair laughing.
"Be yourself, be 'Angry Tom,' be angry at Harper," Mulcair said in response while chuckling and shrugging as the door closed.
Subdivision Strategy
Harper touted his credentials with suburban homebuyers this week, visiting North Vancouver to say he will crack down on foreigners who are driving up home prices -- if he can find evidence that's actually happening.
"By some estimates, as many as 15 percent of the condos in Vancouver sit empty, no dreams are living there," he said Wednesday, adding he needs another mandate before he can order the collection of that data.
For Canadians looking to own, Harper also raised the amount first-time homebuyers can take out of tax-sheltered retirement funds to C$35,000 from C$25,000.
Rocky-Mountain High
Colorado's experience with liberalizing marijuana use is a bad example that Canada shouldn't follow, Harper said Tuesday.
"Most Canadians if you actually ask them don't want the full legalization of marijuana," the prime minister said, "because they recognize -- and I think the statistics in places like Colorado are very clear on this -- that when you go down that route, marijuana becomes more readily available to children, more people become addicted to it, and the health outcomes become worse."
Trudeau has suggested he's open to a relaxation on pot laws, a move also sought by a group of police chiefs.
Anybody Home?
Harper has called the first August election campaign since 1935 in a country that cherishes the few summer months between snowstorms, and it's the longest campaign since the late 1800s when bringing in the crops often trumped politics.
For Bernadette Jordan, a Liberal candidate in Nova Scotia, which calls itself "Canada's Ocean Playground," it's better to meet people at the bakery than to go knocking on people's doors.
"One of the problems that we are having is people thinking about a federal vote that isn't going to happen until October," she said in an interview next to her jeep festooned with campaign signs.
"At this time of year, finding people home is actually a bit of a challenge. But any time I go anywhere and I have the signs on the jeep people are actually coming over and engaging with me, which is quite nice."
Attention Grabber
This week's prize for Best Campaign Ad Ever goes to an independent candidate from British Columbia. In a video that's since gone viral, he rides a giant Canada goose, slays a dragon with a sword and blows up a Conservative robot with laser eye beams.
Before it's here, it's on the Bloomberg Terminal.
LEARN MORE