Brazil's Rousseff Supported by Strange Bedfellows Before Protest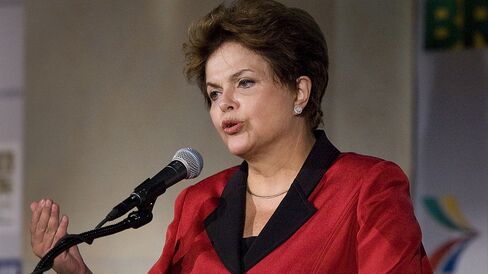 Brazil's biggest media group, Globo, and the National Students Union rarely find themselves on the same side of the fence. Today, they both oppose the impeachment of President Dilma Rousseff.
Twice in the past 30 years they aligned and helped change regimes -- in 1984 when their campaigns hastened the return of democracy, and eight years later when they helped expedite the ouster of a president.
In the face of growing impeachment calls and a nationwide protest on Aug. 16, Rousseff began weaving an unlikely coalition. Business associations, bankers, and some of the country's largest media outlets joined workers and farmers traditionally aligned with the Workers' Party in her defense.
"The past week was a point of inflection in the crisis," said Joao Augusto de Castro Neves, Latin America director at political risk consulting firm Eurasia Group. "The crisis moved from a point of radicalization toward more moderation."
Globo newspaper, which has criticized Rousseff's policies, urged politicians to ensure conditions of "governability" for the president and accused lawmakers opposing austerity measures of being irresponsible in an editorial published Aug. 7.
Close Ally
Carina Vitral, head of the National Students Union (UNE), traditionally a close ally of the Workers Party, said Thursday students would oppose attempts to oust Rousseff. She spoke at an event organized by Rousseff in the presidential palace to show support from social movements, including CUT, the country's biggest labor union.
While Globo backed Brazil's 1964 military coup in an editorial, a stance it later apologized for, the UNE headquarters was machine-gunned and set on fire that same year.
The industrial confederations of Sao Paulo and Rio de Janeiro issued a public letter on Aug. 6, supporting Vice President Michel Temer's call for stability. An appeal for moderation also came from Banco Bradesco's Chief Executive Officer Luiz Trabuco.
"There is a growing understanding by broad sectors of society that the worst could happen if Rousseff falls,"said Andre Cesar, founding partner of Hold Assessoria Legislativa, a Brasilia-based consulting firm.
"The government scored a few goals in the last week," said Cesar.
'New Factor'
For impeachment calls to regain impetus, there would have to be new developments in corruption probes surrounding state-controlled oil company Petrobras that have already led to the jailing of leading executives and politicians, said Cesar and Castro Neves.
While protests on Sunday will be numerous, it's becoming increasingly clear to Brazilians that record low popularity, a recession and claims of incompetence are not enough to impeach a president, said Castro Neves, who puts Rousseff's chances of serving out her term at 70 percent.
"There is still no smoking gun, no silver bullet" to bring down Rousseff.''
Before it's here, it's on the Bloomberg Terminal.
LEARN MORE