Billionaire Timchenko Doubles Donations as Wealth Drops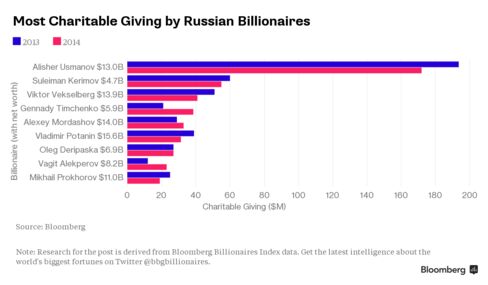 Billionaire Gennady Timchenko almost doubled his charitable donations last year even as the value of his holdings tumbled with the selloff in oil that eroded wealth across Russia.
Timchenko's donations rose 84 percent from 2013 to $39 million, his office said in response to a request from Bloomberg for information about the philanthropy of Russia's 20 richest people. The total contributions of the nine billionaires that provided information declined by 4 percent.
"The Timchenko fund expanded its geographic reach, not only within Russia but abroad," Timchenko's Moscow office said in an e-mailed statement. "Our foreign projects have always been focused on forging international cultural and sporting exchanges."
Russia's economy is contracting for the first time in six years after the price of oil, the country's biggest export, fell by more than half from last year's peak in June, and the West imposed sanctions over the Ukraine conflict. Timchenko, 62, was among those sanctioned by the Obama administration over ties to President Vladimir Putin.
Timchenko, an electrical engineer who became an oil trader and longtime Putin confidant, was subject to a U.S. visa ban and asset freeze after Russia annexed Ukraine's Crimea peninsula in March 2014. He said he was "suffering" for the president and his policies, even if he supported them, as fear of arrest kept him from visiting his family at their Switzerland home.
Chess, Hockey
Several of the businessman's charitable efforts involved international children's events. Timchenko's fund staged a chess tournament in Beijing between Chinese and Russian schoolchildren and chess masters, and sponsored the Moscow Sledge Hockey Federation.
Timchenko, the sole shareholder of Luxembourg-based Volga Group, is worth $5.9 billion after his wealth fell by almost half from its late 2013 peak, according to the Bloomberg Billionaires Index.
Billionaires globally have more than $5.4 trillion and they are expected to drive an upsurge in donations to charitable causes over the next two decades as philanthropy grows in Europe and Asia, according to a May report by UBS Group AG and PricewaterhouseCoopers. More than 100 of them have vowed to give away more than half of their wealth through the Giving Pledge, a campaign started by Bill Gates and Warren Buffett. Chobani LLC founder Hamdi Ulukaya, Scottish oil baron Ian Wood and Vladimir Potanin, Russia's richest person, have also signed on.
Usmanov's Contributions
Of the billionaires whose representatives responded to Bloomberg, Alisher Usmanov gave the most, contributing $172 million of his $13 billion fortune. His charitable spending decreased 11 percent from the previous year, when 12 Russian billionaires participated in a Bloomberg survey, as his wealth ranking has slipped from No. 1 to No. 5 in the country.
Suleiman Kerimov donated $55 million, according to his charitable foundation's 2014 annual report, or about 1.2 percent of his $4.7 billion in assets.
Potanin, worth an estimated $15.6 billion, contributed $31.3 million, his office said. In 2013, he became the first Russian to join the Giving Pledge.
Viktor Vekselberg and Alexey Mordashov, with fortunes of $13.9 billion and $14 billion, gave away $41 million and $32.9 million, respectively, according to their offices.
The country's economic woes haven't deterred Mordashov, he said in an interview in June.
"There's been no chaotic consequences as a result of the crisis," said Mordashov, whose charity spending rose 13 percent. "Liquidity isn't bad and our debt is low."
Oleg Deripaska's foundation donated $27 million, according to data provided by his holding company. Vagit Alekperov, a major shareholder in oil producer OAO Lukoil, contributed $23 million, a 92 percent jump from the prior year, his office said. Brooklyn Nets owner Mikhail Prokhorov gave $19 million.
Before it's here, it's on the Bloomberg Terminal.
LEARN MORE