Agriculture Gone Wild as U.S. Crop Forecasts Trip Up Analysts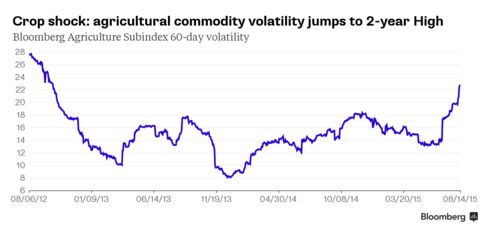 This week's surprise forecasts by the U.S. government for soybean and cotton crops astonished traders as much as Billy Ray's and Louis's tactics in the orange-juice pit shocked the Duke brothers in "Trading Places," the 1983 comedy classic whose climax hinges on commodity-market swings.
Adding to the gyrations: Coffee flirted with a bull market following a slump in the first half of the year. The 60-day historical volatility of the Bloomberg Agriculture Subindex of eight commodities on Friday rose to the highest since October 2012.
The U.S. Department of Agriculture lit the fireworks on Wednesday with estimates for an increase in soybean output and a decline in cotton production. Analysts expected just the opposite, and the oilseed tumbled the most since 2009, while the fiber posed the biggest gain in three years. Corn also went crazy after the USDA boosted its crop forecast, defying trader expectations for a cut.
"It had a huge impact because, quite frankly, I think it caught a large majority of the trade wrong-footed," David Reimann, a market analyst at Cargill Ltd. in Winnipeg, Manitoba, said in a telephone interview. "It's a bit of a game-changer at this point."
The soybean and corn estimates signal lower prices amid ample supplies with little time left for adverse weather to affect yields, he said.
Coffee, the most-volatile component last year in the Bloomberg Commodity Index of 22 raw materials, posted the biggest weekly gain since January as concern mounted that dry weather parched beans in Brazil, the world's top producer and exporters.
Before it's here, it's on the Bloomberg Terminal.
LEARN MORE