Abengoa Stress May Prove a Real Test for Green Bond Market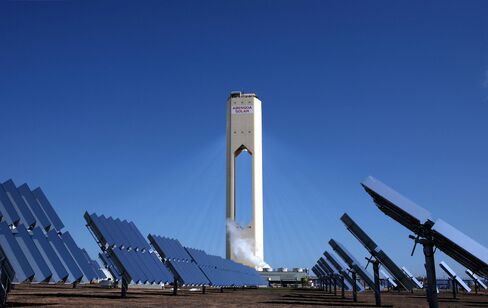 A slump in the bond prices of a subsidiary of the beleaguered Spanish renewable energy company Abengoa SA may spill over into the broader green bond market, according to Ulf Erlandsson, a portfolio manager at AP4, Sweden's state-owned pension fund.
"A bond market hasn't been properly tested until you've had a real default," Erlandsson said in an interview, highlighting Abengoa Greenfield SA's 265 million euros of 5.5 percent bonds, which are now trading as low as 40 cents to 45 cents on the euro.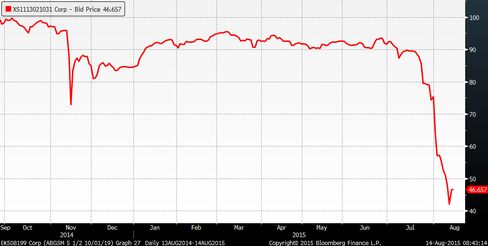 Green bonds are fixed-income instruments that fund projects promoting climate change mitigation or other environmental sustainability purposes. This definition from Bloomberg New Energy Finance is adopted from the Green Bonds Principles framework.
The World Bank, together with institutions including the European Investment Bank and SEB AB, created the concept of branding debt sold by environmentally friendly issuers or projects back in 2007.
Issuance of green bonds stalled in the first half of this year, according to data compiled by Bloomberg Intelligence. The $18.3 billion in sales was slightly below the amount sold in the first half of 2014.
"Labelling bonds with proceeds dedicated to funding renewable energy and other environmental projects hasn't lowered funding costs," Bloomberg Intelligence analyst Gregory Elders wrote on July 29. "With the added costs of certifying and reporting on use of proceeds, issuers may not see sufficient advantage."
Despite faltering sales, Moody's Investors Service expects global green bond issuance in 2015 to far exceed last year's record volume of almost $37 billion. The credit-rating company said it expects continued offerings in China and India.
Before it's here, it's on the Bloomberg Terminal.
LEARN MORE