Yuan's Impact on Data-Dependent Fed Policy Isn't Yet Clear
More time is needed to assess the implications of this week's Chinese devaluation on the Fed and BOE, analysts say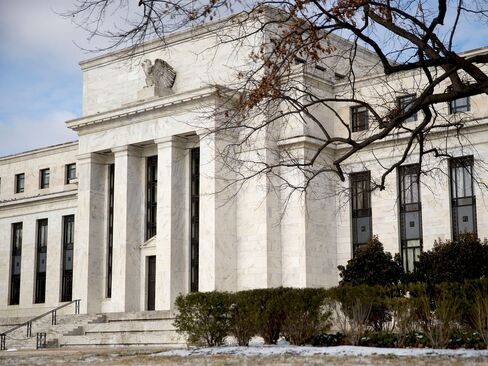 While investors have already begun to push back expectations for an imminent Federal Reserve interest-rate increase, analysts say more time is needed to fully assess the impact of China's move to devalue its currency.
Markets now price a less than 50 percent probability the Fed will lift rates at next month's meeting, amid speculation the stronger dollar will render it unnecessary. In the U.K., expectations for the first Bank of England rate increase have shifted to August 2016 from May 2016 in the past week.
Many market commentators point out that Fed policy will ultimately be driven by U.S. economic data. With monthly retail sales due for release today, Bloomberg economists Carl J Riccadonna and Richard Yamarone wrote, "a significant miss on retail sales, through either the July results or back revisions, could significantly reduce the likelihood of a September liftoff.''
Here are the views of other market watchers:
Societe Generale
If the yuan weakens by 5 percent as SocGen expects, that is negligible compared with the 15 percent rise that has occurred over the past 12 months. It would push up the dollar index by 1.25 percent, which isn't enough to meaningfully alter the Fed's growth or inflation outlook.
A September Fed liftoff does though become a close call if the devaluation sets off another round of broad dollar strength and capital outflows from emerging markets. In that event, the Fed would probably opt to wait until the dust settles, though this isn't SocGen's central scenario.
Goldman Sachs
While dollar strength does on the margin reduce the likelihood of near-term Fed tightening, the overall impact on U.S. growth and inflation will be limited compared with other economies.
It may slightly lower the likelihood of September tightening, though Goldman's base case remains a December liftoff.
Royal Bank of Scotland
Aggressive PBOC policy action hints at worse than previously thought deterioration in the Chinese economy. This takes precedence over any potential stimulus impact from the intervention.
The dollar impact complicates the Fed's exit from its current loose policy stance.
China's action makes it more likely that the Bank of Japan and other Asian central banks will also implement policy to devalue their currencies.
JPMorgan
The stronger dollar will be a "headwind'' to Fed tightening expectations, though policy impact should be limited as "domestic data will play a more important role in determining the timing of Fed liftoff."
Market Securities
The significant rise in volatility adds uncertainty about the Fed's ability to raise rates as soon as next month. Market Securities may change its call for first Fed rate move to December from September if tensions don't abate.
Given the recent decline in commodities prices and imported deflation from Chinese products, it's clear the U.S. Consumer Price Index will remain weak near term.
Barclays
The disinflationary effect of the PBOC's actions and concerns over the underlying strength of the Chinese economy, together with mixed U.K. economic data and a spike in market volatility, may delay the BOE from hiking rates.
Barclays maintains call for first BOE rate rise in the first quarter of 2016.
Before it's here, it's on the Bloomberg Terminal.
LEARN MORE