Ever since tram number 24 stopped running up one of Lisbon's famous hills two decades ago, residents have been demanding its return. So when the renamed Tram Tour began service in May on a shortened route known for hilltop views of the city, it might have been cause to rejoice.
Instead, the tram has become just the latest symbol of tourists being attended to while locals are literally left behind. Lisbon has been the fastest-growing city destination in southern Europe for overnight guests since the global financial crisis amid an unprecedented surge in the nation's $11.6 billion tourism sector.
The tram is "a little insulting for Lisbon residents," said Mario Alves, who is among the more than 2,500 people who have signed a petition demanding another tram service, which at 6 euros ($6.7) a ride costs more than twice other city transport. "Other trams are often filled with tourists and some old city residents have to walk."
The backlash isn't limited to trams -- resident groups across the city are asking for more regulation to limit the impact of the tourism inflow. Neighborhood officials are advocating that Lisbon join European cities such as Barcelona, which froze hotel openings. Better garbage collections in highly trafficked zones and a crackdown on public drinking are also necessary, they said.
Mass Inflow
While Lisbon hasn't announced any similar plans, the nation's economy minister agrees that something may have to give. While tourism is crucial to the economy, "there are aspects that need to be balanced out, such as noise in certain areas of Lisbon," Antonio Pires de Lima said on Aug. 11.
Long overlooked by visitors who favored Portugal's southern Algarve region, Lisbon is attracting more tourists as a result of an ambitious online marketing campaign, relatively lower prices for tourists than in other similar destinations, a growing cruise-ship port and security concerns in other sunny destinations.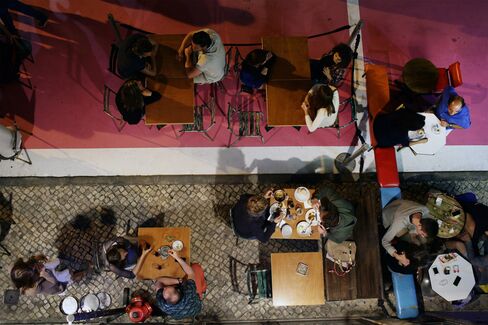 An estimated 3.6 million overnight foreign guests, or more than 6.5 times the city's population, will visit it this year -- an even higher multiple than Barcelona, which expects to receive 7.6 million international visitors. Overnight stays in Lisbon by nonresidents rose 11.8 percent in the first six months of 2015 compared with the same period a year earlier, the National Statistics Institute said on its website Friday.
Pink Street
The increase has helped lead Portugal out of recession and travel and tourism is forecast to account for 15.8 percent of Portugal's 2015 GDP. Still, locals are increasingly feeling put out as tourists take over their streets, transport and even their apartments, changing the fabric of the city.
The epicenter of the growing tension between residents and tourists has turned to the riverside Cais do Sodre neighborhood, which decades ago was one of the city's forgotten districts. Its dark backstreets with a handful of brothels were filled with sailors and locals.
In 2011, everything changed. The quarter was given a makeover and its main street Rua Nova do Carvalho closed to traffic, painted fluorescent pink and nicknamed Pink Street. Hotels, tourist apartments, restaurants and bars set up shop in the area.
"These days, about 70 to 80 percent of our clients are tourists," said Catarina Cabrita, a bartender at Champanharia do Cais in Pink Street. "Business is excellent."
Rent Controls
Living there is another matter, locals say.
"It's gotten worse," said Isabel Sa da Bandeira, who lives 100 meters from Pink Street and heads an organization called "People Live Here" aimed at reminding authorities of the residents around them. "This area used to be in bad shape but we could all sleep at night because everything was done behind closed doors. Now, the party is everywhere."
And she really means everywhere, as tourists start sleeping in locals' apartments. One of the conditions of the 2011 European Union and International Monetary Fund aid package extended to Portugal was a gradual end to long-held rent controls.
As those protections end, landlords are turning away longtime tenants and selling properties to foreign investors -- or renting directly to tourists for short stays. Sale prices measured in square meters have jumped 60 percent in some areas of Lisbon since 2011, said Paulo Silva, head of Aguirre Newman in Lisbon, a real estate consulting firm.
'Growing Pains'
The money keeps pouring in. Foreigners accounted for 90 percent of the 730 million euros invested last year in Portuguese real estate, nearly three times the 2013 amount. Portuguese property investment will increase to about 1 billion euros this year, according to Aguirre Newman data.
That could lead to an exodus of natives from the city, said Vasco Morgado, president of Santo Antonio civil parish, which includes several of Lisbon's historic quarters.
"Landlords are putting pressure on residents to leave so they can rent the units to tourists," said Morgado, pointing out a 35-meter street in his parish that is now home to five hostels. "Nobody is against tourism but there must be a balance because Lisbon has Lisbonites and Lisbonites can't be considered as collateral damage. Tourists won't want to come to Lisbon if there are no residents."
Without legislation to restrain the growth, however, Lisbonites might need to learn how to live with it, in the short term at least, said Eduardo Abreu, a partner at the Lisbon-based Neoturis tourism consulting firm, who calls the dissent "growing pains."
"When a city goes through such an unprecedented tourism boom, it's obvious that unpleasant situations occur," Abreu said. "But Lisbon residents have to learn to live with tourists. After all, if you go to London, Paris or New York you will always find thousands of tourists in spots like Piccadilly Circus, the Eiffel Tower or Times Square. It's inevitable."
Before it's here, it's on the Bloomberg Terminal.
LEARN MORE