Somalia Lawmakers Submit No Confidence Motion in President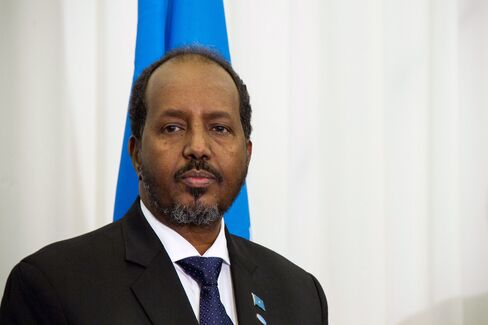 More than 90 lawmakers in Somalia submitted a motion of no confidence in President Hassan Sheikh Mohamoud after accusing him of violating the constitution, two members of parliament said.
The proposal has been lodged with the office of the parliamentary speaker and it needs a Supreme Court ruling on its legality before it can be discussed in the National Assembly, Abdiweli Mohamed Qanyare, a lawmaker, said by phone.
The vote may precipitate social and political upheaval and prevent the government from laying the groundwork for elections scheduled for next year, Mohamoud said at a press briefing at the presidential palace in the capital, Mogadishu, Thursday.
Abdullahi Godah Barre, another member of parliament, told local broadcaster Radio Goobjoog that lawmakers accuse Mohamoud of corruption and undermining efforts to build a strong army.
A new feud could slow efforts to rebuild the Horn of Africa nation's institutions after a quarter-century of civil war. The government is using recent military advances against Islamist militant group al-Shabaab to try to attract investors to help reconstruct Somalia's economy.
In December, Prime Minister Abdiweli Sheikh Ahmed was removed from office by a no-confidence vote after a dispute with Mohamoud over cabinet appointments.
Somali lawmakers elected Mohamoud in a secret ballot in September 2012.
Before it's here, it's on the Bloomberg Terminal.
LEARN MORE