Rigged Polls, Gang Crime Plague Guatemala Presidential Race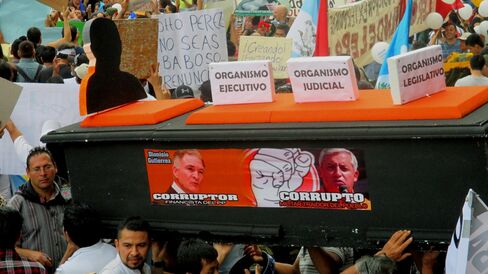 Is Guatemala's presidential race a blowout or headed toward a runoff? Just over three weeks before the Sept. 6 election, nobody knows.
Surveying voter preferences in Central America's biggest economy -- never simple in the best of times -- is being complicated this year by a slew of fake or misleading polls quickly propagated on social media, poor attendance at televised debates and gangland crime.
Mexican firm Consulta Mitofsky issued a statement last week dismissing a poll attributed to it that appeared on social media websites. A separate survey attributed to Cid Gallup and broadcast by local radio station Sonora drew attention when readers realized its numbers totaled 102.2 percent.
Campaigns looking to generate more excitement or buzz for their candidates are part of the problem. Guatemala's violent crime -- the country is a conduit for cocaine headed toward the U.S. -- is another.
"Trying to poll in Guatemala City is madness," said Juan Pablo Pira, coordinator of public opinion studies for local research group Asies. In some neighborhoods, pollsters have "to talk with gang members so they can do their work," he said. "That's not easy."
Polling problems are hardly limited to Guatemala. U.K. Prime Minister David Cameron confounded surveys showing his Conservatives were in a tight race with the Labour Party in May elections. Cameron won handily. Panama President Juan Carlos Varela was consistently third in pre-election polls before notching a 7-point victory in May 2014.
Corruption Scandals
Credibility will matter to whoever succeeds current Guatemalan President Otto Perez Molina, who isn't eligible for re-election. As many as 60,000 people in the country of 14.6 million turned out at rallies earlier this year to protest government corruption and call for Perez Molina's resignation. Separate scandals this year have seen Guatemala's central bank chief indicted for fraud, Vice President Roxana Baldetti resign and various cabinet members quit or be fired.
Congress on Thursday failed to garner the 105 votes necessary to strip Perez Molina of immunity from prosecution over his alleged role in the scandals. While Perez Molina has rejected the accusations, opposition lawmaker Orlando Blanco said that "one day he will have to answer" for the scandals.
14 Candidates
Risa Grais-Targow, a Latin America analyst at the Eurasia Group, said in an Aug. 7 note to clients that more reliable polls consistently show former lawmaker Manuel Baldizon leading the pack of 14 candidates, though not by enough to prevent an Oct. 25 runoff.
"Polls in Guatemala are infrequent and generally not that reliable," Grais-Targow wrote.
Baldizon, of the Lider party, had 24.9 percent compared to 16.2 percent for TV personality Jimmy Morales in a July 27-Aug. 2 survey by Prodatos. Former first lady Sandra Torres had 14.7 percent. The poll of 1,201 people had a margin of error of 2.8 percentage points.
But don't count out candidate Juan Gutierrez of the Party for National Advancement. His Facebook account links to a poll on the website of former White House adviser Dick Morris showing him in third place with 12 percent, while a Prodatos poll puts him in ninth place with 1.9 percent.
In a debate on Monday night, which both Baldizon and Morales skipped, official party candidate Mario David Garcia said election polls have been "made at home."
"In some cases I don't think there is a survey," said Pira of research group Asies. "It's cheaper to pay a graphic designer than conduct a rigged poll."
Before it's here, it's on the Bloomberg Terminal.
LEARN MORE