Lone Star Deal Marks Return of Risky-Mortgage Bonds in the U.S.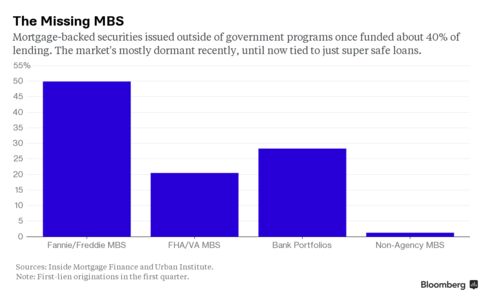 It was a small deal -- about 220 U.S. home loans packaged into a $72 million bond offering -- but it's looking like a post-crisis milestone.
That's because the securities created by private-equity firm Lone Star Funds were backed by new loans to U.S. homeowners with riskier credit profiles in which the government didn't take at least some of the default risk.
Ever since the U.S. housing crisis, Wall Street's mortgage-bond issuance has been largely limited to bundling old, soured debt or big loans made to the wealthiest Americans. The only securities backed by new loans to delinquency-prone borrowers have been insured by taxpayers. The Lone Star deal heralds a new era that could boost the economy, offer higher returns to investment firms -- and potentially lead to risks for the market.
"I've seen a lot of interest from people in accumulating these types of loans with an eye on eventual securitizations" but not any issuance, Scott Buchta, the head of fixed-income strategy at Brean Capital, said in a telephone interview.
The transaction from billionaire John Grayken's Lone Star, marketed by Credit Suisse Group AG, was completed Aug. 7, according to data compiled by Bloomberg.
Jed Repko, a spokesman for Lone Star, declined to comment, as did Drew Benson of Credit Suisse.
Retaining Riskiest
Investment firms are looking to revive the market without repeating the mistakes that fueled the housing bubble of the mid-2000s. This time, they will retain the riskiest stakes in the deals, unlike how Wall Street banks and other issuers shifted most of the dangers before the crisis.
In Lone Star's case, an affiliated vehicle that sponsored the deal will hold onto at least 15 percent that's first in line to bear losses, according to preliminary offering documents obtained by Bloomberg. The mortgages were originated over the past nine months by Caliber Home Loans Inc., which is owned by Dallas-based Lone Star.
The company last year raised a fund to make such investments and related wagers, winning $1.3 billion in commitments, its website shows. The private-equity firm beat other companies that have said they were aiming to do similar deals, including money manager Angel Oak Capital and hedge fund Seer Capital Management. Lone Star didn't have the bonds rated.
Better Credit
The loans are much stronger than the pools that fueled the $1 trillion of annual sales of mortgage bonds without government backing in the years leading up to the crisis, with average borrower credit scores falling above cutoffs used to label debt as "subprime."
Caliber made the loans mainly under two programs. Almost half fall outside of new "Qualified Mortgage" guidelines, allowing for lawsuits from borrowers claiming they got loans they couldn't afford. Most were "Homeowner's Access" mortgages for borrowers who can't qualify for traditional loans, due to issues like high debt burdens or a lack of traditional credit histories. Some were "Fresh Start" loans, which let foreclosed-upon individuals buy again within two years.
Credit scores average 688, compared with the minimum of 620 generally required by taxpayer-backed Fannie Mae and Freddie Mac. Rates average 7.4 percent, with a small amount above 9.5 percent; they can rise, often after five years. Homeowners have about 25 percent equity in the properties. Their incomes were all documented, though sometimes via the use of bank statements, not pay stubs or tax returns.
Halftime Show
By comparison, loans in a $974 million Ameriquest Mortgage Company offering in 2006 had an average credit score of 604. And while loan-to-value ratios averaged 78 percent, property values were mostly determined by computer models, instead of appraisers, and borrowers' second mortgages may have gone undisclosed.
Only 69 percent of Ameriquest's loans were considered "full doc" when it came to the checking of borrowers' income and assets, almost all were used to extract cash from home equity and their payments were mostly poised to jump after two years. Ameriquest, which sponsored the Super Bowl halftime show in 2005, no longer exists.
Government-backed programs remain the linchpin of the market, fueling about 70 percent of new mortgages, with banks taking almost all of the rest, according to the Urban Institute's Housing Finance Policy Center.
Other lending must fill in niches, with Fannie Mae, Freddie Mac and agencies such as the Federal Housing Administration being fairly flexible. Credit scores on FHA loans for home purchases closed in June averaged 689, with down payments of 5 percent, according to data from technology firm Ellie Mae.
While issuance of private bonds tied to U.S. home loans has almost doubled this year to more than $40 billion, according to Bank of America Corp. data, the largest portion has been backed by delinquent or rehabilitated mortgages. Much of the rest was high-quality loans too large for U.S. programs. Taxpayer-backed issuance totals about $800 billion.
Before it's here, it's on the Bloomberg Terminal.
LEARN MORE