Income Purgatory Menaces EU's Fastest-Growing Member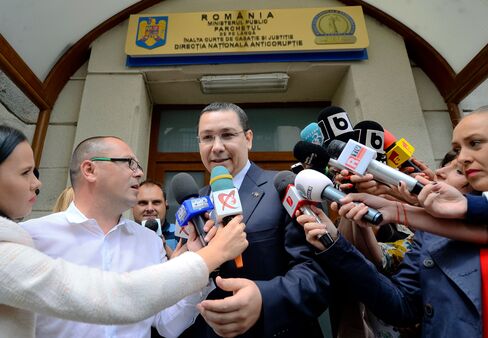 Latin American nations fell into it. High-tech economies in southeast Asia sidestepped it. If the European Union's fastest-growing member is to dodge the middle-income trap, it may need to change course.
Romania, whose economy surged 4.3 percent in the first quarter, will soon approach the stage of development at which some countries struggle to maintain rising per-capita income. To prevent wealth gains from plateauing, critics say the government must redirect resources allocated for tax cuts.
"Romania risks promoting a consumerist growth model that condemns it to the middle-income trap," said Valentin Lazea, the central bank's chief economist. He advocates nurturing long-term growth by stimulating flagging investments and exports.
Romania's gross domestic product per person is headed toward the $10,000-$12,000 range that World Bank research shows has ensnared nations suffering from low investment, limited diversification and poor labor conditions. Prime Minister Victor Ponta, battling corruption charges, is focused on luring voters before elections in 2016, using tax cuts and public pay rises.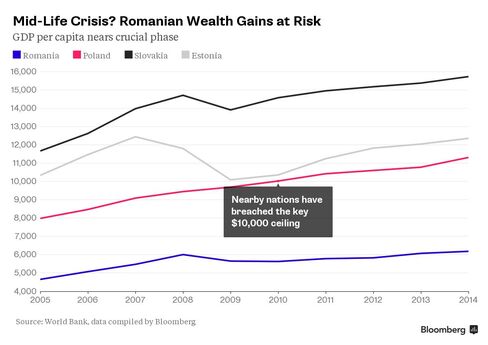 Without significant growth in investment, the benefits of Ponta's policies will probably be short-lived, according to the International Monetary Fund.
"Targeted tax cuts achieve the best results," said IMF mission head Andrea Schaechter and local representative Guillermo Tolosa. "The current proposed tax package is almost exclusively directed to spur consumption, which is already the fastest-growing part of the economy."
Investment is certainly in need of a boost, having been the most neglected driver of growth since Ponta took power.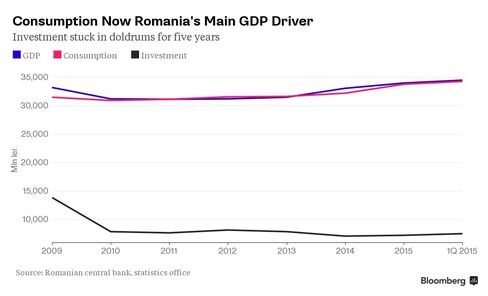 Before it's here, it's on the Bloomberg Terminal.
LEARN MORE