Greece's economy expanded 0.8 percent in the second quarter, a forecast-busting figure that defied all expectations. But it won't last, according to economists, who say the imposition of capital controls will have taken a chunk out of production at the start of this quarter.
We've already seen Greek manufacturing PMI drop to a record low in July, giving a taster of the weakness. There's also an ominous signal from the European Commission's sentiment indicator, which is back at its lowest level in almost three years.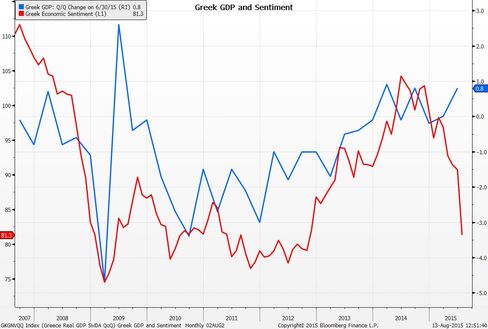 And even while the Greek gross domestic product number looks good on the surface, all is not what it seems. According to economists Jamie Murray and David Powell at Bloomberg Intelligence, the "flattering real GDP belies weakness." Nominal GDP shrank 0.7 percent in the quarter, meaning the growth in real GDP was largely due to falling prices.
Here are the two measures of GDP.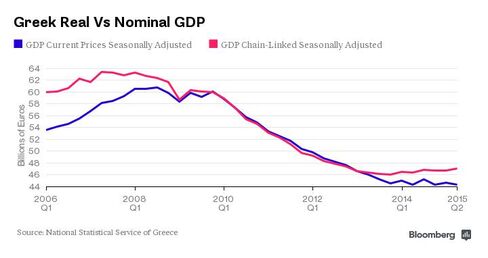 Greek consumer prices fell an annual 1.3 percent in July, extending the nation's deflationary slump.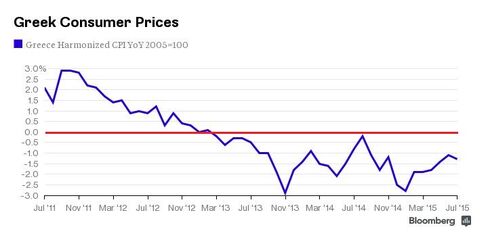 Analysis of the second quarter is limited because we only get the headline numbers and no breakdown of the output or expenditure components. There's also the prospect of future revisions that could completely change the picture. In the meantime, Murray and Powell offer this:
"One possible explanation for the narrative around the numbers is that the threat of capital controls and their subsequent introduction may have prompted some unusual behavior," they said. That behavior includes Greeks boosting spending before they got cut off from accessing their money.
For Jonathan Loynes at Capital Economics, the second-quarter data are not a true capture of what's going on in Greece. Or as he put it, they relate "to an entirely different economy than the one currently being strangled by capital controls."
Before it's here, it's on the Bloomberg Terminal.
LEARN MORE