Coca-Cola Promotes Europe Executive James Quincey to COO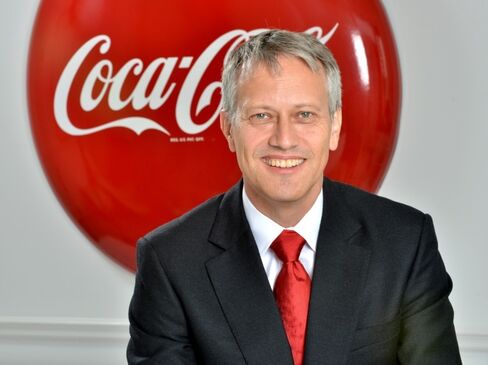 Coca-Cola Co. promoted James Quincey to chief operating officer, setting up the 19-year company veteran as a potential successor to Chief Executive Officer Muhtar Kent.
Quincey, 50, will have responsibility for all of Coca-Cola's operating units worldwide and will report directly to Kent, the Atlanta-based company said Thursday in a statement. The appointment is effective immediately.
The promotion signals Quincey may be in line to succeed the 62-year-old Kent, who became CEO in 2008 after less than two years as COO. Quincey most recently served as president of the beverage maker's European operations and also has worked in Coca-Cola's Nordic and Mexico units.
"It clearly suggests a succession-planning step for the company," said Ali Dibadj, a New York-based analyst at Sanford C. Bernstein & Co. "They're putting some of the chairs in place."
Coca-Cola fell 0.4 percent to $41.10 at the close in New York. The shares have dropped 2.7 percent this year, compared with a 1.2 percent gain for the Standard & Poor's 500 Index.
Quincey was born and raised in the U.K. and studied electrical engineering at the University of Liverpool. After realizing engineering wasn't his calling, he turned his eye to business, working as a consultant in Asia and the U.S. before being recruited by Coca-Cola.
Mexico Experience
Quincey cited his work expanding Coca-Cola's business in Mexico and acquisitions of juice companies Jugos del Valle and Innocent as his proudest accomplishments at the company.
"When I went to Mexico, the system had not been growing for a number of years," he said in a story on Coca-Cola's website. "We needed to show that we could grow and win again."
Quincey's understanding of international markets, his experience making acquisitions, and his knowledge of Coca-Cola's non-carbonated beverage segments will serve the company well in the current environment, Dibadj said.
"They're seeing opportunities for change in the international business, particularly in Europe," he said. "They're trying to elevate the importance and focus on Europe partially through this."
Bringing back the COO role, which wasn't filled after Kent left it to become CEO, will help Coca-Cola execute on its planned $3 billion in cost cuts and a companywide switch to zero-based budgeting next year, said Ian Shackleton, an analyst at Nomura Holdings Inc.
"In James's role, having all divisions reporting to him, it will be a lot easier to force through some of those initiatives," Shackleton said in a phone interview.
Before it's here, it's on the Bloomberg Terminal.
LEARN MORE