Black Swan Rebound Manual Gets Final Chapter in Icelandic Tale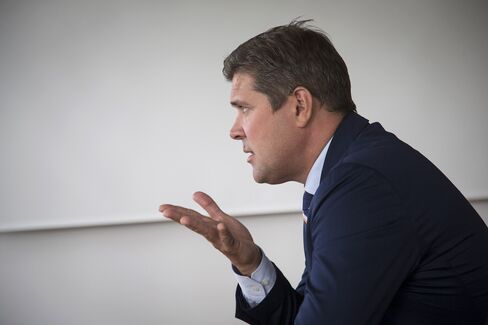 The suddenness with which Iceland disappeared down a hole created by its banks' debts shocked the world in 2008.
But seven years later, the island's steps to resurrect itself are becoming something of a how-to manual for nations exiting financial crises. How Finance Minister Bjarni Benediktsson handles the island's next hurdle -- a final exit from capital controls -- could become a road map for other nations as steering currency flows grows in importance.
"The situation is sensitive and there may be uncertainties that emerge," Benediktsson, 45, said in an interview in Reykjavik. "But most of the remaining hurdles will probably have been solved" before the current government's term is up in two years, he said.
Benediktsson says Iceland, which has already tapped international debt markets since its 2008 crisis, is now looking into optimizing the long-term currency mix of its liabilities as investors grow more welcoming toward an issuer they treated as a pariah just over half a decade ago.
"We're both looking at the auction that will take place this fall and next year's maturity dates," Benediktsson said. "We can't rule out that we'll find that the conditions are favorable now and that it might be beneficial for us."
How Iceland's financing plans develop will hinge on how Benediktsson phases out capital controls. He wants to avoid an exit that triggers a currency sell off, but without aggravating investors eager to get out.
Hedge Funds
Creditors who bought up bank bonds after Iceland's collapse include hedge funds Davidson Kempner Capital Management and Taconic Capital Advisors.
In June, Benediktsson unveiled a plan to force bank creditors to pay at least 500 billion kronur ($3.8 billion) in a stability fee or face an even larger exit tax, potentially as high as $5.1 billion. Benediktsson says Iceland would be better off long-term if creditors agree to the stability fee. They have until the end of the year to decide.
Iceland imposed capital controls at the end of 2008 after its three biggest banks, Kaupthing Bank hf, Glitnir Bank hf and LBI hf, defaulted on $85 billion in debt.
The collapse of a banking system with debts more than 10 times Iceland's gross domestic product triggered an instant capital flight that drove inflation as high as 19 percent and wiped out one-fifth of household incomes in the immediate aftermath of the 2008 crisis.
Nobel Laureates
The island's decision to tackle the economic shock by abandoning international bank creditors and protecting itself with capital restrictions won praise from Nobel laureates and the International Monetary Fund. The krona has strengthened about 20 percent from its post-crisis low at the end of 2009 and Iceland's economy is now growing more than three as fast as the euro-zone average.
Benediktsson says he is now "completely convinced" Iceland is ready to move into the final steps of its path toward economic normalization.
"We have to implement this program, follow up on it and cash in on the options available to the government, companies and the Icelandic public," he said. "It's an extremely important milestone on the path toward restoring credibility in the Icelandic economy and continuing to improve the quality of life."
Before it's here, it's on the Bloomberg Terminal.
LEARN MORE