A Fan of Che and Churchill, Top Argentine Candidate Is a Mystery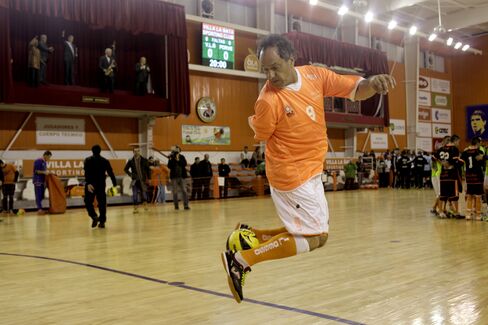 He promises continuity -- yet change. He favors growth -- but sustainability. He admires the Marxist revolutionary Che Guevara -- and the British Conservative Winston Churchill.
Daniel Scioli, who emerged from primaries this week as the leading candidate to be Argentina's next president, has mastered the art of being many things to many people, offering voters a brilliantly vague canvas onto which much may be projected.
That is why Argentines are still guessing whether he will continue the currency controls and state intervention favored by current President Cristina Fernandez de Kirchner or edge to the more free-market policies of his previous mentor, former President Carlos Menem, after elections in October.
"It's very difficult to say 'Scioli is this and he's going to do this,'" said Juan Cruz Diaz, managing director of the Cefeidas Group, a political and regulatory advisory firm. "The big question is how far Scioli's convictions for change extend to aligning and convincing the whole spectrum of legislators, governors and unions to push through reforms."
Scioli's eclectic mix of role models is evident in a gallery of waxwork figures that stand above an indoor soccer field he built outside of Buenos Aires. There, shoulder-to-shoulder, are Guevara and Churchill, as well as U.S. Presidents Barack Obama and Bill Clinton, unusual heroes for a Latin American associated with leftist populism.
Boating Accident
Scioli, 58, is governor of Buenos Aires, a businessman and former champion speedboat racer who lost an arm in a boating accident. He often points to the accident as evidence of his refusal to give up when facing enormous obstacles. There is little doubt about his ambition or drive. Less clear is his political orientation.
He served as vice president under Fernandez's late husband, Nestor Kirchner, and backed her policy to default rather than pay hedge funds suing Argentina for unpaid debt. But he also received a letter in 2003 from Jeb Bush, the former Florida governor and Republican presidential candidate, thanking Scioli for supporting Miami as the hub of a proposed free-trade agreement championed by his brother, then-President George W. Bush, La Nacion reported at the time.
Carlos Corach, who served alongside Scioli under Menem, says the candidate's ability to embrace conflicting ideologies is a reflection of the movement spawned by former President Juan Domingo Peron.
"The backbone of Argentina's political system since 1946 is a political movement called Peronism that's multi-faceted, allowing it to change according to the country's needs," Corach said by phone.
Privatizing State Companies
While serving under Menem as minister for sports and tourism, Scioli backed his policies to privatize many of Argentina's state-run companies and lift capital restrictions.
For clues to Scioli's policies, people should look at his economic advisers' declarations, Corach said. Confidants include Mario Blejer, a former central-bank president and adviser to the Bank of England, and Miguel Bein, who said in May that Argentina should pay hedge-fund holdouts 70 percent of the $1.6 billion a New York court awarded them.
At a press conference on Aug. 10, Scioli was asked whether he represented continuity of Fernandez's policies or a shift toward the center. He was typically equivocal, saying he would "do the right thing."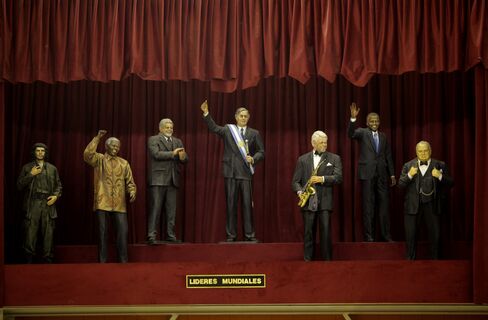 "If there's something that characterizes our political space, it is its diversity, but we coincide in the most fundamental questions," Scioli said. Nestor Kirchner, another member of Scioli's waxwork exhibit, "saved this country from the devastating consequences of debt."
A query sent to Scioli's spokesman seeking comment on his ideological ambiguity went unanswered.
Possible Run-Off
Argentine bonds plunged in June after Scioli named Carlos Zannini, one of Fernandez's closest advisers, as his running mate. Fernandez then endorsed Scioli rather than Interior Minister Florencio Randazzo and that helped him win the most votes in the primaries on Aug. 9, ahead of opposition leader Mauricio Macri, who favors more radical change.
Unless Scioli wins by a big margin in October, however, he will face a runoff in November. Macri then might stand a better chance of attracting enough voters to defeat him. That prospect will spur Scioli to tone down his rhetoric in the coming weeks to appeal to independent voters, said Patrick Esteruelas, a senior analyst at money-manager Emso Partners.
Even before the primaries, Scioli appeared to moderate his tone, saying he will gradually give Argentines more freedom to purchase foreign currency and steadily normalize companies' ability to repatriate dividends.
Electoral Strategy?
"The market still has a healthy degree of skepticism over what Scioli truly represents but has gotten more comfortable with the idea that a Scioli presidency can still represent a platform for change, albeit a more gradual one," said Esteruelas.
If Scioli's alliance with Fernandez is an electoral strategy that masks his true political inclinations, it's managed to fool many Argentines.
Roberto Fantio, a 76-year-old pensioner, and Blanca Sueyro, a 66-year-old retired teacher, both said they believe Scioli will continue Fernandez's policies. Fantio said he will vote for Scioli since the current government has "been good for me economically," while Sueyro said she will vote against him because she wants a "more honest, cleaner" government.
As for the waxwork gallery, which also includes former Brazilian President Luiz Inacio Da Silva, Peron and his wife Evita and Indian independence leader Mohandas Karamchand Gandhi, Cefeidas' Diaz said each should be viewed in metaphorical terms.
"The figure of Che Guevara isn't there for being a blood-spilling communist but rather as a symbol of idealism and fighting for your dreams," Diaz said. "He sees Churchill as a hero and statesman who could sit down with great powers and bring his country out of war."
Before it's here, it's on the Bloomberg Terminal.
LEARN MORE