Corn Prices Are Getting Crushed After the USDA Unexpectedly Raises Crop Forecasts
The U.S. Agriculture Department unexpectedly raised its forecasts for corn and soybean production, citing better crop yields than previously anticipated.
The corn crop will total 13.686 billion bushels from an estimated 81.1 million harvested acres, the USDA said Wednesday in Washington. That's larger than a forecast a month ago for a 13.53-billion-bushel crop. The average estimate of analysts surveyed by Bloomberg News was 13.332 billion.
Soybean production will be 3.916 billion bushels from a record 83.5 million acres, the USDA said, an increase from its 3.885 billion projection last month and higher than the average estimate for 3.742 billion.
Stockpiles of corn before next year's harvest will be 1.713 billion bushels, larger than the 1.599 billion predicted last month, the USDA said. Soybean inventories before the 2016 crop is collected will be 470 million bushels, bigger than the 425 million forecast in July, the department said, citing weaker exports than previously estimated.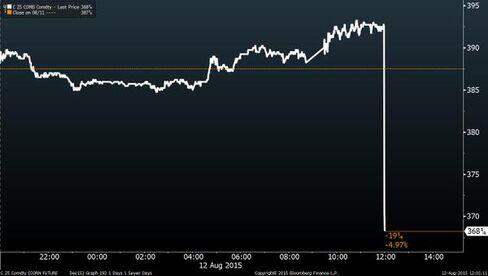 Before it's here, it's on the Bloomberg Terminal.
LEARN MORE