U.S. F-16s Launch First Attack From Turkey Against Islamic State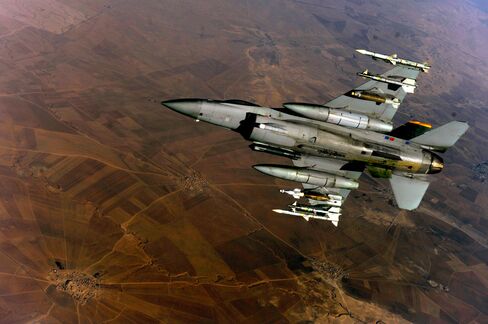 U.S. F-16 fighter jets hit Islamic State targets in northern Syria in their first airstrikes from Turkey's Incirlik air base since winning approval to use it last month, according to Pentagon officials.
Six of the jets made by Lockheed Martin Corp. took part in the strikes that are part of a "deeper U.S.-Turkey counter-ISIL cooperation," Navy Commander Elissa Smith, a Pentagon spokeswoman, said in an e-mailed statement, using an acronym for Islamic State forces.
The U.S. began drone flights from Incirlik last week after Turkey agreed in July to a long-standing American request to use the base for closer airstrikes.
The shift follows months of wrangling between the two NATO allies over the strategy for dealing with Islamic State. Turkey says it wants to create a "safe zone" in northern Syria, a move the U.S. has stopped short of endorsing even as it's pushed for greater Turkish cooperation.
"Turkey and the U.S. are joining forces against a common threat," Coskun Unal, a military analyst for Sidar Global Advisors, a research firm in Washington, said by phone."The use of Incirlik will lead to better intelligence-sharing between the allies, which could increase number of precision strikes on Islamic State."
Sorties from Incirlik, located near the Syrian border, can reduce flight times to minutes from the hours required from other locations in the Persian Gulf region, according to a U.S. defense official, who spoke on condition of anonymity to discuss operational considerations.
Time Over Target
Proximity to Islamic State-controlled territory puts less stress on the aircraft and gives pilots more time to stay over a target area, the official said.
A year after the fall of Iraq's second-largest city, Mosul, and Islamic State's declaration of a caliphate across parts of Iraq and Syria, the radical Sunni group has proven resilient when confronted by Iraqi ground forces and U.S.-led airstrikes. In May, militants captured Ramadi, the capital of Anbar province in Iraq, and Palmyra in Syria.
Closer intelligence-sharing with the Turkish military may also reduce U.S. reliance on Kurdish fighters in northern Syria to provide the location of Islamic State militants.
Rules of Engagement
Turkey, which is clashing with Kurdish rebels tied to the ones in Syria, will probably use militant groups it's been backing in Syria's civil war to gather similar intelligence, said Unal, a former Turkish army officer.
U.S. airstrikes in Iraq and Syria have proven ineffective so far because of the lack of expertise among American partners on the ground, according to Christopher Harmer, a former U.S. Navy helicopter pilot and analyst with the Washington-based Institute for the Study of War said.
President Barack Obama, who has ruled out sending U.S. ground troops into combat in Syria or Iraq, is counting on defeating Islamic State fighters through local forces on the ground, bolstered by U.S. and allied airstrikes.
Obama has authorized the use of air power to defend U.S.- trained Syrian rebels if they come under attack from terrorist groups or the regime of Syrian President Bashar al-Assad, deepening the U.S. role against Islamic State forces in Syria.
Cost Savings
The broader U.S. rules of engagement, approved July 31, came after rebels fighting Islamic State were attacked by the al-Nusrah Front, an al-Qaeda offshoot, in northern Syria, a second U.S. defense official said on condition of anonymity to discuss private deliberations.
The U.S. and partner nations have conducted more than 5,800 airstrikes over the past year in Iraq and Syria, destroying thousands of Islamic State targets. The airstrikes cost $3.5 billion dollars from Aug. 8, 2014, to July 31, according to the website of the U.S. Defense Department.
U.S. warplanes are returning to Incirlik more than a decade after the military withdrew from the base over Turkey's refusal to allow attacks on Iraq from its soil.
Moving to Incirlik will modestly "drive down" the cost of flying aviation sorties, according to Harmer, the former U.S. pilot. The fixed costs of aviation, including flight hours and maintenance, are far higher than fuel, he said.
Before it's here, it's on the Bloomberg Terminal.
LEARN MORE