U.K. Banks Said to Lobby to Avoid Billions in Fresh PPI Payouts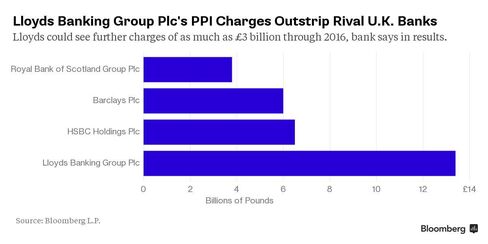 Britain's largest banks are lobbying regulators to stop a court ruling from sparking a new wave of redress for improperly sold insurance, people familiar with the matter said, payments that may cost tens of billions of pounds.
The British Bankers Association, which represents lenders including Lloyds Banking Group Plc and Barclays Plc, asked the markets watchdog to publicly say the ruling, known as the Plevin case, won't set a fresh precedent for wrongly-sold payment protection insurance, said the people, who asked not to be named because the talks with the regulator are private.
The U.K.'s biggest financial firms could face as much as
33.5 billion pounds ($52.2 billion) in provisions to compensate customers for undisclosed commission payments on products like car loans if the decision is widely applied, analysts at Autonomous Research LLP have said. The original PPI scandal has cost the banks about 26 billion pounds so far, but only to compensate customers for the policies they didn't want or need, rather than any improper commissions attached to them.
The people familiar with the talks didn't elaborate on the size of any potential redress.
Britain's Financial Conduct Authority may issue guidance to deal with the November Supreme Court ruling that found Paragon Personal Finance Ltd. broke consumer-protection rules by failing to inform Susan Plevin, a widowed college lecturer, that her PPI policy included large commission payments.
In the Plevin case, commissions accounted for about 72 percent of the PPI premium she paid and were "deemed to be so material as to mean that non-disclosure made the relationship unfair, even though there was no regulatory requirement for Paragon to disclose them," according to Autonomous.
'Plevin Snowball'
If the ruling applies to all sales of PPI, buyers may be able to go back over their policies and seek further restitution, potentially costing the banks billions of pounds more in fresh claims. Autonomous also says a "Plevin snowball" could result if the ruling's logic on unfair commissions was applied to loan products other than PPI.
Lloyds, Barclays, HSBC Holdings Plc and Royal Bank of Scotland Group Plc have warned the Plevin case could have a financial impact, although they stressed it's too early to calculate any potential cost. Barclays and RBS said in their half-year earnings statements that they are in "active dialogue" with the FCA and the Financial Ombudsman Service.
The FCA plans to make a statement about Plevin when it publishes the results of a review into banks' handling of PPI claims near the end of this month, said a person with knowledge of the situation, who asked not to be named because the details aren't public yet. The regulator said in January it would consider whether further interventions were appropriate.
"Status Quo"
Some lawyers say the FCA will probably want to prevent a costly, industry-wide outcome from the Plevin case.
"They will want to maintain the status quo," said Celyn Armstrong, counsel at law firm Linklaters LLP in London. "But they can't stop people going to court. The FCA will probably be concerned to say it's done the work to put in place a complaints process, and to ensure that firms follow it."
A spokesman for the BBA said in an e-mailed statement that the group was providing "whatever assistance we can to the FCA" in its review of whether to issue rules or guidance on the implications of Plevin.
Any fresh wave of payouts may draw the attention of the Bank of England's Financial Policy Committee, which is concerned about the risk to Britain's financial system posed by fines and redress.
Total charges for wrongdoing paid by U.K. banks, at 30 billion pounds, are equivalent to about all of the capital they have raised privately since 2009, the BOE said in its July financial stability report. It said the FPC will review banks' future projections of misconduct costs in its 2015 stress test.
Authorities with a dual mandate of stabilizing the financial system while enforcing rules have used their discretion when punishing banks before. On Tuesday, Co-Operative Bank Plc was censured for past misconduct but avoided a fine as British regulators were concerned about weakening its finances even further.
Before it's here, it's on the Bloomberg Terminal.
LEARN MORE