Russia Cracks Down on Banks as Top-100 Lender Loses License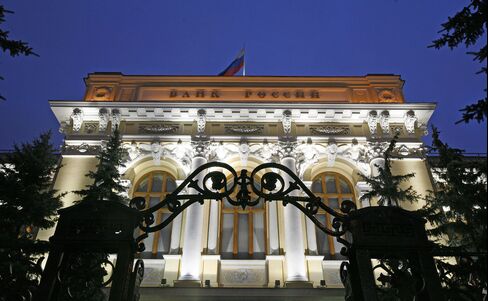 The Bank of Russia revoked the license of a top-100 lender for the second time in three weeks, intensifying the industry's cleanup started under Governor Elvira Nabiullina.
Probusinessbank, the country's 51st-largest by assets, lost its license for violating laws on banking activity, the regulator said in a statement on its website Wednesday. A fund run by Stockholm-based East Capital was Probusinessbank's second-biggest shareholder after founder Sergei Leontiev with a stake of almost 20 percent. The lender's capital adequacy ratio fell below the minimum requirement of 2 percent of risk-weighted assets, according to the central bank.
Nabiullina is escalating her battle with banks deemed mismanaged or under-capitalized as part of her campaign to clamp down on dubious capital transactions and improve lending practices. The regulator pulled the licenses of 13 banks last month, including the country's 45th-largest lender, the highest total since Nabiullina took office in June 2013.
Probusinessbank's ruble bonds due next month plunged to 57 percent of their face value as of 5:43 p.m. in Moscow from 95 percent on Tuesday. The Moscow Exchange trading of its bonds will be halted starting Aug. 19.
The central bank approved participation of the Deposit Insurance Agency to resolve Probusinessbank's liabilities, according to the statement. The agency will hold a tender to choose a bank that will acquire part of Probusinessbank's property and obligations.
Bought, Rescued
The bank held about 27 billion rubles ($420 million) on individual accounts as of July 1, according to an analytical center run by the news service Interfax. Its capital shortfall is estimated at 67 billion rubles, according to Bank of Russia Deputy Governor Mikhail Sukhov.
In a separate statement, the regulator said it also approved plans for the Deposit Insurance Agency to take part in preventing the bankruptcy of several lenders that like Probusinessbank were controlled by financial group Life.
"As banks were bought and rescued, Probusinessbank continued to take on problems," Dmitry Dylnov, the lender's chief executive officer until last week, said by phone. Its plans to sell the problematic assets or improve their quality were derailed after spring 2014 as "the economic situation changed and everything worked out against us."
Capital Shortfall
Dylnov, who worked at the lender until it was placed under temporary administration, didn't dispute estimates that Probusinessbank faces a capital shortfall of 30 billion rubles, while the whole financial group Life has a deficit of 70 billion rubles. The assessments may be accurate if what's "considered problematic covers everything that has any nonpayments," he said.
The regulator intensified its sweep of the financial industry as assets deteriorated amid a deepening economic crisis and banks ran short on capital to cover losses. Lenders' profits have also been squeezed by high interest rates after six increases by the Bank of Russia in 2014, including an emergency move in December.
The number of operating lenders in Russia dropped to 741 at the end of June from 894 two years earlier, central bank data show.
East Capital, which specializes in emerging and frontier markets, declined to comment on the license withdrawal. East Capital said last week that Probusinessbank had a "massive loss" as a result of "the rapid repricing of their liabilities" after the central bank raised rates, while its loan book shrank and credit quality deteriorated.
"The central bank has demanded that the bank create more provisions, which the bank clearly was no longer in a position to do without breaching the normative on capital adequacy," East Capital said in the statement.
While Probusinessbank added 3.2 billion rubles to its loan-loss reserves recently, the Bank of Russia considered it done "incorrectly," according to Dylnov.
Read this next:
Before it's here, it's on the Bloomberg Terminal.
LEARN MORE