Rio Olympics Sell 3 Million Tickets; Poor Wait on Mayor's Pledge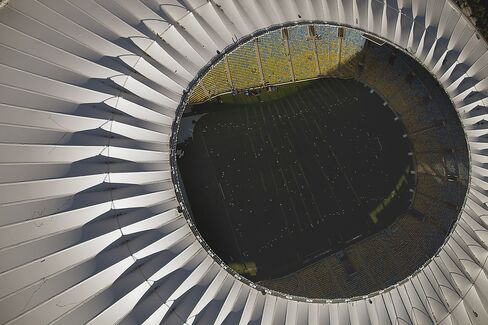 A pledge by Rio de Janeiro's mayor to provide more than 1 million free tickets to poor school children to attend the 2016 Olympics remains unfulfilled as organizers said he's yet to put in an order with about half the tickets to the games already sold.
Eduardo Paes, the host city's mayor, said a year ago that he would use public funds to buy tickets after acknowledging Brazil's poor largely were excluded from attending the 2014 soccer World Cup, which the country also hosted.
Selling the 7.5 million tickets available for the games is a vital part of the organizers' commitment to meet the 7 billion reais ($2 billion) cost of staging the 17-day event. They've said the city will have to pay for its tickets, and have yet to set any aside.
City Hall officials didn't immediately respond Wednesday to an e-mail. Carlos Nuzman, chairman of the Rio 2016 organizing committee, said at a news conference it was up to the mayor's office to comment on its plans.
About 3 million tickets have been sold, including around half the 4 million reserved for the Brazilian public. A further 1 million tickets have been sold to foreign residents, sponsors and sports federations. The remaining tickets will start to be sold on a first-come, first-served basis in October.
Paes has become the public face of the games. He's leading a city-wide regeneration program centered around the Olympics that includes billions of dollars worth of public projects.
"We want these games to have greater participation of the city's population," Paes said last August, announcing plans for the purchase of 1.2 million tickets so that 600,000 school children could attend with an adult. The tickets would be for the "poorest of the city, who can hardly access tickets for big events like the World Cup."
Wealthy Fans
Ticket prices for the World Cup, organized by Zurich-based FIFA, meant the majority of fans attending games turned out to be white and upper class, according to polls conducted during the competition. Brazil has the world's biggest black population outside of Nigeria, Africa's most populous nation, according to the Brazilian government.
A Datafolha poll showed 67 percent of those attending Brazil's second-round game against Chile on June 28, 2014, classified themselves as white, while 90 percent said they came from Brazil's top two economic classes, representing about 15 percent of the country's population.
Organizers have been trying to price Olympic tickets to reach poorer sections of society. About half the 7.5 million tickets are priced at less than 70 reais, with the cheapest at 40 reais. Students, the elderly and people with physical disabilities, including obesity, can get a further 50 percent discount. Buyers of 20 reais tickets can split payments across three monthly installments, a typical practice in Brazil.
Before it's here, it's on the Bloomberg Terminal.
LEARN MORE