Judge Stuck Refereeing Deflated Balls Case After No Deal Reached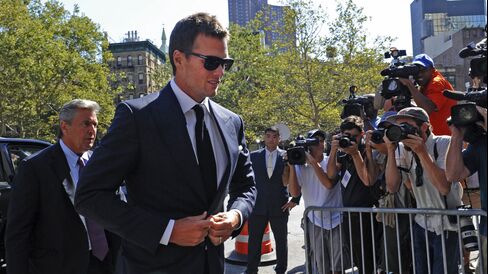 A judge who pressed the New England Patriots' Tom Brady and NFL Commissioner Roger Goodell to resolve their dispute over the quarterback's four-game suspension will have to keep playing referee.
Brady and Goodell separately left the Manhattan federal courthouse Wednesday after almost seven hours of discussing the punishment stemming from the deflated balls case. Brady, a three-time Super Bowl Most Valuable Player, smiled as he walked past reporters and left in a black SUV without commenting.
"It was a productive day," DeMaurice Smith, executive director of the National Football League Players Association, said as he left with Brady's team.
Some onlookers shouted "cheater" at Brady as he departed, while Goodell was greeted by several boos minutes later. Walking past a bank of microphones, Goodell didn't speak to the gathered media. NFL spokesman Brian McCarthy said that the two sides agreed not to comment on their discussions with U.S. District Judge Richard Berman.
Berman had separate, private sessions with Brady and Goodell and their lawyers Wednesday morning before saying in court that the positions of both sides have strengths and weaknesses. He said it would make sense to resolve the fight with a settlement, noting that it takes two years on average to resolve a lawsuit through appeals.
"Nobody here wants to wait that long," Berman said. "Everybody is of the view that this case can be resolved expeditiously."
Settlement Talks
Both sides had asked the judge to rule before the Patriots' Sept. 10 regular-season opener. The two sides met again privately with Berman in his robing room for more than four hours to discuss a potential settlement following the public court hearing.
"One of the judge's key roles is to take them from litigation mentality to settlement mentality," Gabe Feldman, the director of the sports law program at Tulane University, said in an interview. "He wants to get rid of the rhetoric and the posturing. That's why there is so much time being spent behind closed doors."
Their next court appearance is scheduled for Aug. 19.
Brady was suspended after an investigation determined he probably knew team employees had deflated game balls below the minimum pressure required by league rules before last season's conference championship game, which the Patriots won 45-7 against the Indianapolis Colts.
The league sued the union to confirm Goodell's decision and the union countersued to reverse it.
Report Questioned
"I don't know what to make" of the report that concluded Brady was "at least generally aware of the inappropriate activities" of Patriots' employees involved in letting the air out of the footballs, Berman said.
The NFL had said it abided by the collective bargaining agreement, which sets out the disciplinary process and lets Goodell, or someone designated by him, hear appeals. Goodell said there were no directly comparable cases to Brady's in the past.
"Mr. Brady was afforded every right that he was entitled to" under the collective agreement, Daniel Nash, a lawyer for the league, told Berman.
Brady came to the courthouse in a Chevrolet SUV with a flashing red and blue light on the dash. Across the street, two men wore jerseys with Brady's number 12, while nine other people lined barricades wearing hats made to look like deflated footballs on their heads.
Denied Wrongdoing
Brady, who denied any wrongdoing, has said he prefers to throw softer footballs. A deflated football is easier to grip when passing. Goodell rejected Brady's appeal of the suspension.
From the start, the judge pushed both sides to consider settlement. He increased the pressure on both men by ordering them to appear in court in person to discuss a possible deal.
The case is National Football League Management Council v. National Football League Players Association, 15-cv-05916, U.S. District Court, Southern District of New York (Manhattan).
Before it's here, it's on the Bloomberg Terminal.
LEARN MORE