Man Sets Himself on Fire at Seoul Sex-Slave Rally Near Japan Embassy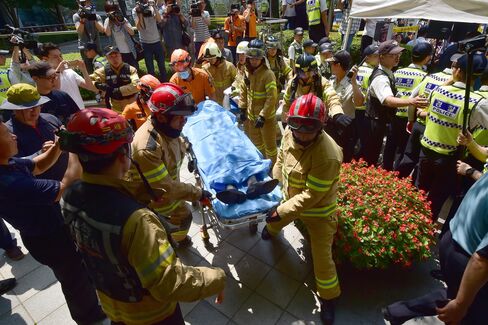 An elderly man set himself on fire outside the Japanese Embassy in Seoul at a rally in support of so-called wartime sex slaves.
The man, surnamed Choi and born in 1935, was transferred to a hospital after participants in the demonstration of hundreds of people used placards to put out the fire, Jongno police official Park Joo Hyun said. Choi's motive is unknown and his injuries are not life-threatening, Park said.
The incident comes days before Japanese Prime Minister Shinzo Abe is to make a statement to mark the 70th anniversary of his country's defeat in World War II, and the end of its occupation of the Korean peninsula. The "comfort-women" issue overshadows ties between the neighbors, with South Korean President President Park Geun Hye refusing to hold a summit with Abe until Japan does more to address the issue.
"Signs of extremism are on the rise as some victims of Japan's colonial rule grow older without their demands being resolved," said Yang Kee Ho, a professor of Japanese studies at Sungkonghoe University in Seoul. "It doesn't represent the sentiment of the entire South Korean population even though feelings toward Japan remain critical."
Yoon Mi Hyang, an activist for the women, said Choi occasionally joined the weekly rally, and was also an activist for Koreans forced to work by Japanese companies during Japan's 1910-1945 colonization of the peninsula.
Former comfort woman Lee Yong Soo attended Wednesday's rally, which featured speeches calling for Japan to apologize to the women who suffered. She said she does not condone self-immolation as a form of protest.
In 2005, another South Korean man set himself ablaze to protest Japan's Shimane Prefecture designating Feb. 22 as Takeshima Day. Takeshima refers to a set of South Korean-controlled islets called Dokdo in Korean. He survived the blaze.
Before it's here, it's on the Bloomberg Terminal.
LEARN MORE