Night-Tube Debut Requires Affordable Deal With Unions, TfL Says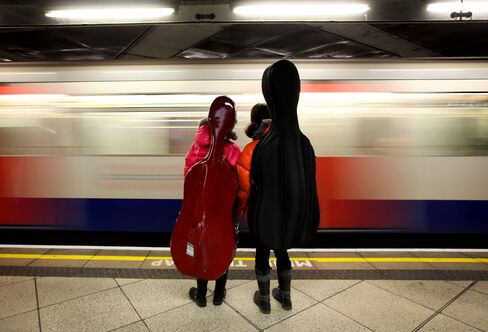 London Mayor Boris Johnson's planned Night Tube service requires a sustainable pay deal with the subway's unions if it's to begin operating as planned on Sept. 12, according to Transport for London, which oversees the system.
With night operations scheduled to commence in a month's time, contracts need to be agreed for the deadline to be met, TfL said Wednesday. Unions have rejected the latest terms and plan a third round of strikes over the issue starting Aug. 25.
"We are operationally ready to deliver the Night Tube and are still working towards that date," TfL said in a statement. "But it can't be at any cost, we need an affordable deal from the unions. And obviously we do need staff there to work."
TfL, which reports to Johnson, commented after the Press Association reported that moves were under way to put the night service on hold, citing people familiar with the situation. Rail, Maritime and Transport union spokesman Geoff Martin said in a text message that the report was "speculation," though "probably true." The union won't comment further until getting full confirmation from London Underground Ltd., he said.
The RMT didn't say if delaying the Night Tube's introduction would lead it to abandon the next strike. Drivers' union Aslef, which has continued negotiations and doesn't plan to take part in the walkout, may meet directly with London Underground, while the TSSA union has resumed indirect talks.
Higher Fares
The latest proposals from the RMT for accepting the Night Tube would leave Londoners facing a 1.4 billion-pound ($2.2 billion) bill if implemented, equivalent to a 6.5 percent increase in fares, TfL said in an earlier statement.
"Certain unions have now made a whole series of unaffordable demands for more pay, shorter working hours and the reversal of the modernization of the Tube," London Undergound Chief Operating Officer Steve Griffiths said.
The RMT plans to stage back-to-back 24-hour strikes starting on Aug. 25, it said Tuesday, joined by members of the Unite and TSSA unions.
Subway workers have been offered a 2 percent pay increase this year and at least 1 percent in 2016 to back the Night Tube, plus a 500-pound bonus on affected lines and a 2,000-pound lump sum for drivers. Unions say proposals for the service don't take into account the impact on personal lives.
Read this next:
Before it's here, it's on the Bloomberg Terminal.
LEARN MORE