Libya's Internationally Recognized Leader Says He's Quitting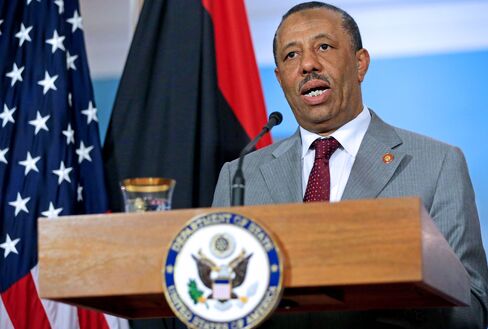 Libya's internationally recognized prime minister offered to resign to appease critics, even as the United Nations pressed ahead with efforts to reconcile the country's warring governments.
Abdullah al-Thinni, who heads the government in eastern Libya, said on a television program Tuesday that he will quit all his official posts and formally submit his resignation to lawmakers on Sunday. He promised to resign after being criticized on air for failing to stem the violence and improve the quality of life in Libya, which sits atop Africa's largest proven reserves of crude oil.
"If I'm the obstacle to this nation, then my resignation will be submitted" to parliament, he said. Hours later, Mohamed Al-Toumi, an official with the prime minister's media office, noted that several steps have to be taken before al-Thinni could resign.
"The necessary step would be for him to submit the resignation" to lawmakers and "that it be accepted, and that hasn't happened," Al-Toumi said by phone from Baida, the seat of Al-Thinni's government. Al-Thinni has quit before, after an attack targeted his family in April 2014, but he ended up staying on.
The premier's declaration injects new uncertainty in tumultuous Libya, which has been split between two governments and their militia allies since last year. His administration and smaller groups agreed last month on an initial plan to end the fighting and form a unity government. The government's main rival, the Islamist-dominated administration in Tripoli, didn't accept the plan, though it has joined UN-sponsored peace talks that opened in Geneva on Tuesday.
The United Nations' mission in Libya has been working to broker a deal between the sides, with the UN's special envoy to Libya, Bernardino León, saying Tuesday in Geneva that he hoped a final deal would be reached by the end of the month and signed in early September.
"I think it is extremely risky to reach October without an agreement, because we will be in a more chaotic situation," Leon said in a UN statement.
For more, read this QuickTake: Libya's Breakdown
Before it's here, it's on the Bloomberg Terminal.
LEARN MORE