Key Suspect in Insider Trading Hack Ordered Back to Jail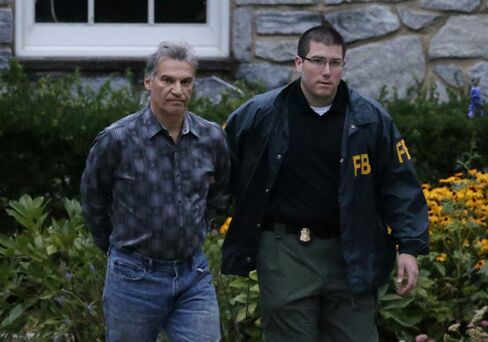 A key suspect in the global insider trading scheme revealed by U.S. prosecutors Tuesday was ordered back to jail in a rare fight between federal judges about whether he can remain free.
A judge in Philadelphia Tuesday said Vitaly Korchevsky could be released on $100,000 bond after being indicted in Brooklyn, New York. He is charged with helping orchestrate a conspiracy regulators said netted $100 million.
Korchevsky was arrested by the FBI Tuesday at his Glen Mills, Pennsylvania home. He is described by authorities as a linchpin in an "unholy alliance" of hackers and traders who tapped corporate press releases before they became public.
U.S. prosecutors asked a federal judge in Brooklyn, where Korchevsky may eventually face trial, to intercede. In a terse order filed overnight, U.S. District Judge Brian Cogan blocked the bail order of U.S. Magistrate Judge Linda Caracappa and ordered a hearing in his court as soon as possible.
An attorney representing Korchevsky, Steven Brill, declined to comment on the charges but said he is working hard to negotiate a new bail package for his client. Brill said Korchevsky is jailed and wasn't sure whether he left custody before Cogan's order.
Five Arrested
A former hedge fund manager and investment adviser, Korchevsky serves as pastor of the Slavic Evangelical Baptist Church in Brookhaven, Pennsylvania. He was one of nine people indicted in New Jersey and New York for their part in the alleged insider scheme. Five were arrested -- four are at large.
The government wants the five men held without bail until trial. Prosecutors said they are likely to flee because they are natives of another country, in this case Ukraine, travel abroad frequently and have significant financial resources.
Also arrested were Leonid Momotok, 47, of Suwanee, Georgia, and Alexander Garkusha, 47, of Alpharetta and Cumming, Georgia. They appeared yesterday before a federal judge in Gainesville, Georgia, and were ordered held pending a hearing Thursday.
Trading Operations
The case against Garkusha, who is accused of managing the trading operations of an entity used to make payments to hackers, isn't "what it appears to be," said Jerome Froelich, an attorney who represented him at his court appearance yesterday.
"It doesn't say much about him," Froelich said of the indictment in a telephone interview. Suzanne Hashimi, a lawyer for Momotok, declined to comment.
Also arrested yesterday was Arkadiy Dubovoy, 51, founder of a real estate developer and an ice cream company in Ukraine, and his son Igor, 28. Taken into custody in Alpharetta, a suburb of Atlanta, they appeared before U.S. Magistrate Judge Alan Baverman in Atlanta Tuesday.
They were ordered held pending a bail hearing, said Matthew Reilly, a spokesman for the U.S. attorney in New Jersey, where they were indicted.
International Warrants
Bruce Morris, an attorney representing Igor Dubovoy, didn't immediately return a call seeking comment. Robert Citronberg, an attorney representing Arkadiy Dubovoy, couldn't be immediately reached for comment.
International arrest warrants were issued for the three other men charged in New Jersey -- Ivan Turchynov, 27; Oleksandr Ieremenko, 24, and Pavel Dubovoy, 32.
Vladislav Khalupsky, 45, charged in Brooklyn, is also the subject of a warrant. All four men are in the Ukraine, prosecutors said.
The cases are U.S. v. Korchevsky, 15-cr-00381, U.S. District Court, Eastern District of New York (Brooklyn.) and U.S. v. Turchnyov, 15-cr-00390, U.S. District Court, District of New Jersey (Newark).
Before it's here, it's on the Bloomberg Terminal.
LEARN MORE