Kerry Visit to Finesse Politics of New Cuban Relationship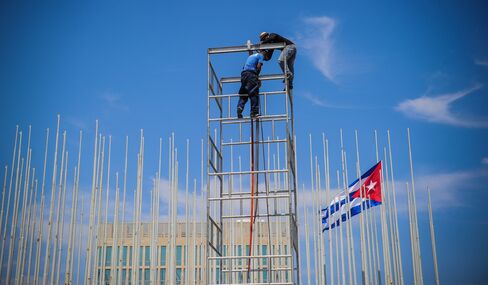 Anti-Castro dissidents won't be at the U.S. Embassy in Havana when Secretary of State John Kerry raises a ceremonial American flag Friday to mark the restoration of ties after 54 years.
Instead, Kerry will meet government opponents -- along with an array of Cubans from entrepreneurs and independent journalists to human-rights activists and artists - - when he raises another flag later in the day at the U.S chief of mission's residence.
While U.S. officials say the separate event is intended to include as many Cubans as possible on the historic day, it's also a way to finesse the complicated politics of the new relationship with the Cuban government.
Kerry's 10-hour visit to Havana -- the first by a secretary of State since 1945 -- is being celebrated as a new chapter by many in Cuba and the U.S., even as critics including Senator Marco Rubio of Florida, a Republican presidential candidate, decry it as a capitulation to the Castro regime.
"Human rights is obviously at the top of our agenda in terms of the first things that will be focused on in our direct engagement" with Cuban officials, Kerry said Wednesday in an interview with the Miami Herald and CNN en Espanol.
Kerry's flag-raising ceremony is symbolic because it's a belated one: The embassy actually reopened on July 20, the day that Cuban officials raised a flag at their embassy in Washington and Kerry met at the State Department with Cuban Foreign Minister Bruno Rodriguez. In Havana, three U.S. Marines who took down the U.S. flag in 1961 will help raise it again.
Fugitives, Claims
Aside from pressing the government to expand personal and political freedoms, a State Department official told reporters Wednesday that the Obama administration will now make a priority of winning the extradition to the U.S. of American fugitives from justice who've spent decades in Cuba and of settling claims by Americans whose property was seized without compensation in the communist revolution, including many Cuban families who fled to the U.S.
In an interview with Telemundo, Kerry said "limited space" was the reason dissidents couldn't be included in what he termed "a government-to-government moment" when the American flag is raised over the embassy. Kerry said he will meet with dissidents and "a broad cross-section of Cuban society that will be invited to that event at the mission."
"I will take an open, free walk in Old Habana at some point of the day," Kerry said. "I look forward to meeting whoever I meet and listening to them and having, you know, whatever views come at me."
Bringing Senators
Kerry will be accompanied to Havana by a number of U.S. officials, including Senators Patrick Leahy, Amy Klobuchar and Jeff Flake, all advocates of normalizing diplomatic and economic relations with Cuba. Legislation imposing an embargo on most U.S. trade with Cuba remains in place.
Cuban authorities had no veto over the guest list for the Friday morning U.S. embassy event, just as the U.S. had no say in who attended Cuba's embassy reopening in Washington, according to the U.S. official who briefed reporters.
Under terms negotiated for restoring diplomatic ties, the official said, Cuban citizens are now able to visit the U.S. embassy freely to use its Internet connection, meet diplomats and engage in educational programs without restrictions and without Cuban government approval.
In addition, U.S. diplomats are able to travel freely on the island without seeking prior permission from Cuban authorities although they must inform them where they are going, as is true in other countries that place restrictions on U.S. diplomats, the official said.
Before it's here, it's on the Bloomberg Terminal.
LEARN MORE