How Italy's Biggest Banks Brushed Off a Sovereign Debt Shock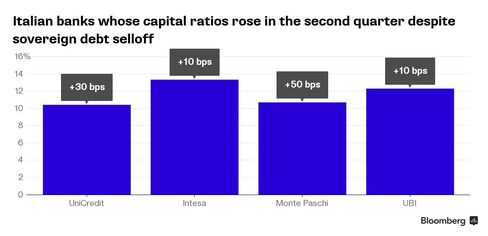 For a change, vast holdings of government bonds didn't hurt Italy's biggest banks during the worst market selloff since 2012.
Against the predictions of some analysts that UniCredit SpA, Intesa Sanpaolo SpA and Banca Monte dei Paschi di Siena SpA would suffer a capital hit in the second quarter because of a plunge in Italian debt, buffers grew. Lower loan losses, declines in risky assets and hedging helped strengthen finances.
"The results were a positive surprise, with the best news coming from capital," said Karim Bertoni, who helps manage more than $6 billion at Bellevue Asset Management AG in Switzerland. "Past financial crises and tougher rules by regulators forced lenders to reduce leverage and return on equity, but at the same time contributed to reinforcing capital."
Improving profits cushioned the impact of the bond-market rout as Greece teetered on the brink of exiting the euro-region. European Central Bank President Mario Draghi's unprecedented economic stimulus is helping to nudge Italy out of recession after lenders cleaned up their books and some banks increased lending.
The pickup let Intesa and Monte Paschi reduce funds put aside for bad loans by 29 percent in the quarter, while UniCredit cut provisions by 9 percent. All three also trimmed their assets weighted by risk.
Beating Estimates
"Higher earnings, intense de-risking and balance-sheet shrinkage are the main factors pushing capital up," said Fabrizio Bernardi, a Milan-based analyst at Fidentiis Equities. "These trends will continue."
The three largest Italian banks improved their common equity tier 1 ratio -- a key measure of financial strength -- by 0.3 percentage points on average in the quarter ended in June. Their shares jumped after earnings beat estimates, with UniCredit rising the most in almost three years.
Italian lenders have led the European Stoxx 600 Banks Index higher this year, with Banca Popolare di Milano Scarl gaining 72 percent and Intesa 40 percent.
The improvements in capital overshadowed the challenges Italy's banks still face from sluggish economic growth, narrow lending margins and profitability that's below levels common before the financial crisis.
UniCredit may be forced to book fresh losses from the sale of its Ukrainian unit, according to the first-half report published on the lender's website this week, although its capital ratios wouldn't be affected. UniCredit is in exclusive talks to sell JSCB Ukrsotsbank to ABH Holdings SA.
Hedging Risks
The ECB pushed Italy's lenders to set aside more funds for bad loans and pad capital buffers as it took over supervision of euro-area banks last year. Regulators also sought, without much success, to reduce the co-dependency between southern European governments and their banks that threatened to spread contagion during the sovereign-debt crisis.
Italian banks were seen as vulnerable to the bond selloff because they held about 405 billion euros of the nation's debt in June. They must reflect price swings on securities in their trading books each quarter. While that doesn't affect profit, it can erode capital.
Italian banks hedged their risks by using asset and interest-rate swaps to make their bond holdings less sensitive to price swings. Intesa said it lowered the duration of its Italian bond portfolio to about 10 weeks from four years. That limits the risk of declines, but also reduces any profits should bond prices rebound.
Carlo Messina, Intesa's chief executive officer, said the bank holds Italian debt primarily as a ready source of cash.
"In past years, it was also a main contributor to the revenues of the group," he said on a July 31 conference call. "Now, our view is that the main purpose is only to have a liquidity reserve."
Before it's here, it's on the Bloomberg Terminal.
LEARN MORE